Elizabeth May has blasted the federal NDP leader for failing to call Stephen Harper's "bluff" not to attend a leaders' debate on women's issues that has since been cancelled.
In fact, the Green Party leader says Thomas Mulcair let Harper "off the hook."
"Tom Mulcair will wear this and I'm begging him to reconsider," she told reporters Tuesday in British Columbia.
All five leaders had been invited to the Toronto debate. Mulcair had agreed to attend in principle, but the NDP leader has since said it doesn't make sense to take part in debates without Harper.
May suggested to reporters Tuesday that the image of the Conservative leader's empty chair at the debate could have sent a powerful signal.
She also had some advice for Mulcair.
May said it wasn't "smart politics" for the NDP leader to "decide that it doesn't matter to debate women's issues" while also accepting invites to events hosted by The Globe and Mail, TVA, and the Munk Debates that exclude the only female leader of a federal party.
"It's time for Tom Mulcair to step up and start being willing to keep his promise to debate women's issues so that there can be a focus in this election campaign, for the first time since 1984, on issues that are of priority for half the population," she said.
May also released a strongly worded statement Tuesday accusing Mulcair of letting Canadians down.
"Excluding women's voices from debates is profoundly anti-democratic, yet the Conservatives and the NDP have now signaled repeatedly that the leaders' debates they prefer are those with no woman leader present," she said in the statement.
"Is it possible Thomas Mulcair has not considered the message this sends to young women and girls? I find it incomprehensible that someone leading a 'progressive party' would renege on a commitment to a broad coalition of social justice and feminist organizations."
NDP spokesperson Karl Bélanger told The Huffington Post Canada via email that May's statement was "simple false and ridiculous."
Bélanger noted that the NDP was the first party to elect a woman as leader and only one to do so twice, referring to Audrey McLaughlin, who led the party from 1980 to 1995, and Alexa McDonough, who led the party from 1995 to 2003.
"Mr. Mulcair was happy to debate Ms. May earlier during the campaign and is looking forward to do so again later during the campaign," he said in the statement.
The Greens also threw some jabs on Twitter.
The Canadian Press reports that debate organizers may now host one-on-one interviews with leaders and release the recordings on the date the event would have been held.
"A debate would be our number one choice, but unfortunately Stephen Harper scuttled the debate by refusing to participate," she said in the statement.
"We have been in ongoing discussions with the Up for Debate organizers to ensure that women's issues are at the forefront of this campaign and one-on-one interviews were one of the options we suggested. We have also made sure that these one-on-one interviews will be bilingual."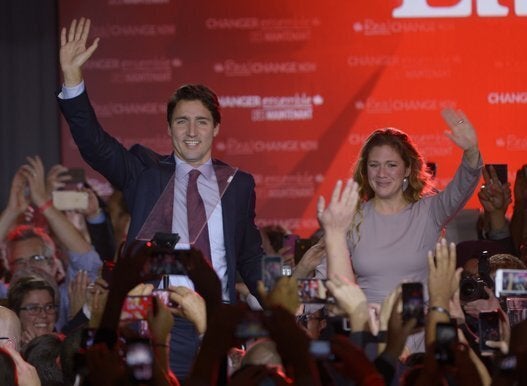 In Photos: Canada Election 2015