Stephen Harper says he was just doing his job when he took the unusual step of calling the Bank of Canada governor in the middle of the election campaign.
"Prime minister Harper and governor Poloz discussed the recent decline in global stock markets and commodity prices, slowing growth in China and emerging markets and the potential impacts on Canada's economy,'' said the statement.
As markets around the world rebounded Tuesday, Harper was asked why he called Poloz, what they discussed, and how he responds to accusations he was "playing politics" with the news release.
Speaking in Quebec City, Harper said that it's his responsibility "as prime minister" to continuously keep an eye on the economy. The Conservative leader said he speaks regularly with Poloz and other officials.
"I think anyone who doesn't get the economy is the primary responsibility of the prime minister shouldn't be running to be prime minister in the first place," he said to applause.
Harper told reporters he would "tread carefully" in terms of divulging details of a "private conversation" with Poloz, but said they concluded there is significant volatility on financial markets.
"And we know that is a concern to people. Obviously, it's a concern to retirees, it's a concern for people planning for retirement, to investors," he said. "And this kind of elevated volatility in the markets, in and of itself, is never good. It is never good. And it's why we keep a close eye on it."
Harper said that volatility reflects a "slowing global economy" in parts of the world, particularly China.
The Tory leader did work in a plug for his team though, saying that challenging times underline why the "government strategy is the correct one." Harper also warned against running around and changing strategies based on daily market news.
"You have a long-term plan and you stick to it," he said. "That is what we have. It is a plan of a balanced budget, a solid fiscal framework with lower and competitive tax rates."
Conservatives see Harper's experience managing the economy as a central pillar in his pitch for re-election. Harper's campaign buses feature the slogan, "Proven leadership for a safer Canada [and] stronger economy."
Mulcair promises balanced budget
On Monday, NDP Leader Thomas Mulcair mocked Harper's call to Poloz at a rally in Mississauga, Ont.
"For months now, every time the facts were to the contrary Stephen Harper has claimed that the economy is A-OK, that there's nothing to worry about,'' he said.
"But suddenly today he urgently called up the governor of the Bank of Canada. Well, Mr. Harper, you may have been blind to it but Canadians have known for some time that your plan just isn't working.''
"Our first budget will be a balanced budget," Mulcair said at an event in Hamilton, Ont.
That's a promise Liberal Leader Justin Trudeau isn't prepared to make.
According to Bloomberg, Trudeau told reporters this week that the budget is already in deficit and, while Liberals want to get back to balance, how long it takes will depend on "the mess" Harper leaves behind.
With files from The Canadian Press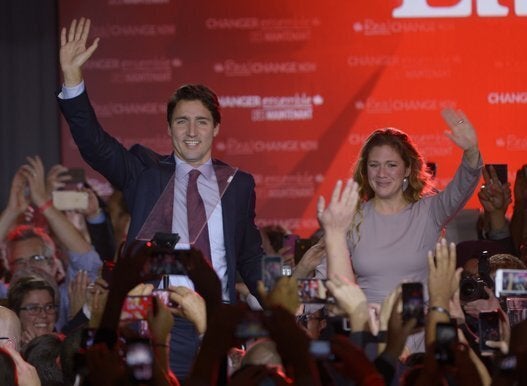 In Photos: Canada Election 2015