The modelling world has some big improvements to make if this 19-year-old model has anything to say about it.
This is Agnes Hedengård.
The Swedish woman has modelled since she was 15, according to Metro UK. But now she says she hasn't been able to find work in the last five years due to the industry's "absurd" standard that has her pegged as "too big."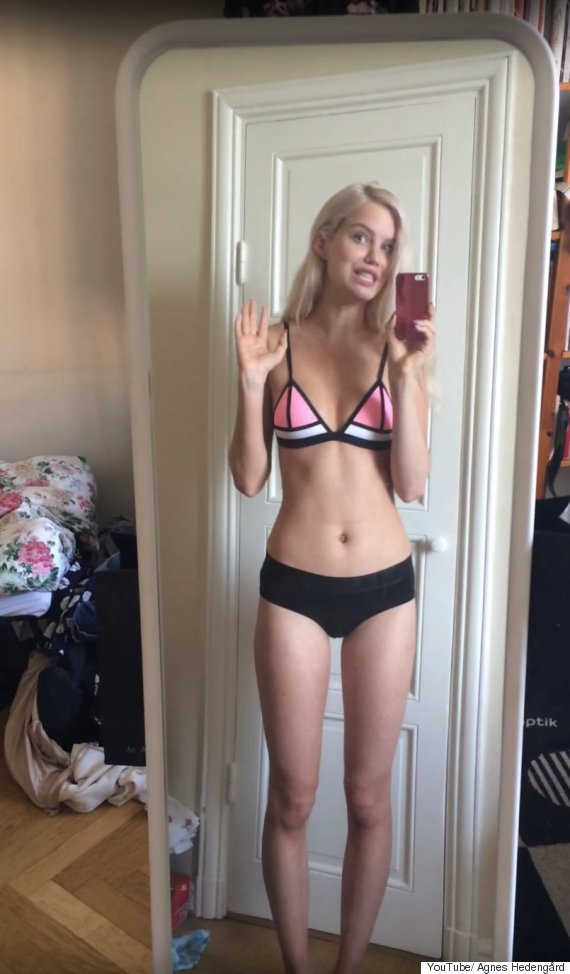 "According to the modelling industry, you cannot look like this. You need to be thinner", says Hedengård in the video above. "I have been in contact with big agencies and clients that really want to work with me, but as soon as they get hold of my measurements, it's a whole other story."
Hedengård says her body mass index (BMI) is 17.5. According to Dieticians of Canada, a BMI below 18.5 is considered underweight. She adds the purpose of her video isn't to draw attention to herself, but to highlight the unrealistic standards modelling agencies expect of their talent.
"It's absurd and I hate it, and I just want other people to see this."
Last year, Hedengård came in third place on the reality show Sweden's Next Top Model, but despite her efforts she gave up modeling full time and now works as a sales assistant in Stockholm, according to the Daily Mail.
Hedengård's comments come at a time when plus-sized models are becoming increasingly mainstream. In May, Icelandic Glamour released a full spread of five plus-size models to send a message about positive body image and self esteem.
As for Hedengård, she says the industry's standards won't change how she feels about herself.
"...love yourself and don't let anyone tell you any different."
Also on HuffPost