The suspect in the deadly shooting of two TV journalists in Virginia on Wednesday morning was a former colleague.
Former WDBJ7 reporter Bryce Williams was identified by police by his real name, Vester Lee Flanagan.
The suspect has reportedly shot himself. He died after being transported to hospital, the Washington Post reported.
According to a LinkedIn profile that has since been pulled, Williams worked at WDBJ from 2012 to 2013 as a general assignment reporter. He was from the Bay Area and attended San Francisco State University.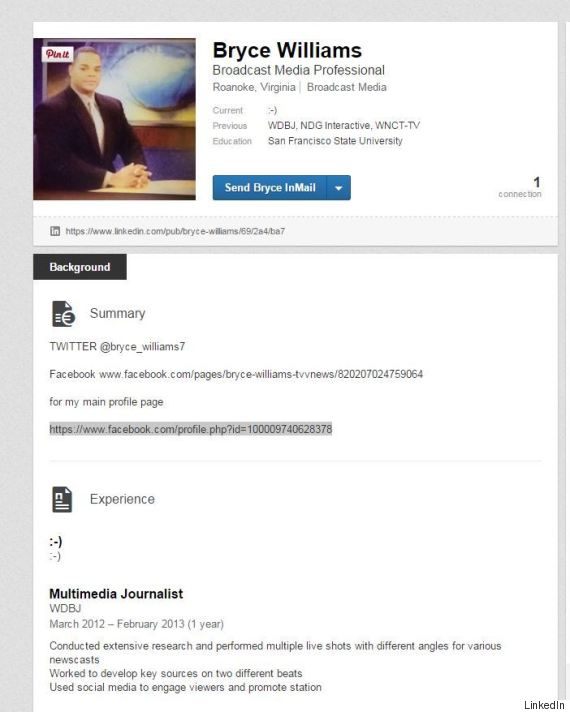 He also reported for several TV stations in the U.S. South since 1993, according to a TVSpy story announcing his hiring at the Roanake-based station.
Sources: #WDBJ shooting suspect is former reporter Bryce Williams

http://t.co/9VnMgXVHTcpic.twitter.com/RtLipQ7PpV

— NBC12 WWBT Richmond (@NBC12) August 26, 2015
Williams apparently posted details about the shooting to his social media accounts on Wednesday morning, including a series of tweets citing a human resources dispute with both shooting victims, Alison Parker and Adam Ward.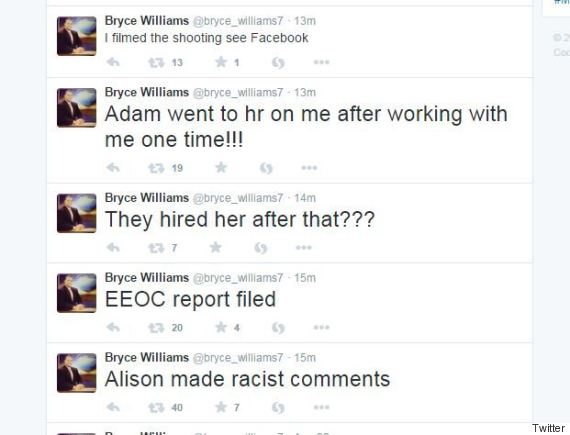 WDBJ7 station manager Jeff Marks said that Williams "had a reputation of being difficult to work with" and that he was escorted by police from the building when he was fired in 2013.
The Guardian also obtained memos from 2012 that ordered Williams to seek medical attention. The memos also outlined that Williams was the subject of a number of complaints from his co-workers.
Disturbing video of the shooting also appeared on Williams' public Facebook page. That account has also been suspended.
The footage shows someone approaching the news crew during a live interview. At one point, a gun is pointed at Parker and the shooter hesitates before opening fire.
ABC News reported that it received a 23-page manifesto from someone claiming to be Williams. The faxed document was handed over to authorities.
ABC later reported some of the note's contents. Williams cited the reaction to the Charleston church shooting and personal grievances including discrimination and bullying as reasons for Wednesday's shooting. The note also mentioned the Columbine and Virginia Tech mass shootings.
Earlier on Wednesday, Virginia Gov. Terry McAulliffe called the suspect a "disgruntled" former employee of the TV station.