Two puppies on Vancouver Island who were caught in a house fire are breathing easy, thanks to some tiny rescue equipment that firefighters had on hand.
Crews were called to a home in Port Alberni, B.C. last week, where all the people inside were able to escape safely, reported the Alberni Valley News.
But two chihuahua puppies named Mushu and Mulan were found hiding in the house, and had inhaled "quite a bit of smoke," said fire chief Tim Pley.
They were given oxygen — through special pet-sized masks that had just been donated to the Port Alberni Fire Department. (Watch video above.)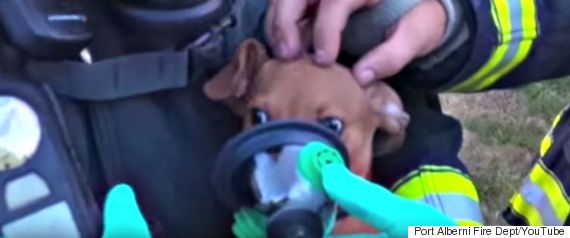 Fire officials said they were pleased with the outcome of the first time they used the masks. The dogs are reportedly doing well.
The equipment, which comes in three sizes, was purchased through fundraising by the Mountain View Veterinary Hospital, as well as a private donation from resident Greg Marks.
The clinic has also donated pet oxygen masks to fire departments in Port Coquitlam, Langley, and Abbotsford, reported CBC News.
The masks fit animals ranging in size from ferrets to large dogs, said the outlet.
Like Us On Facebook

Follow Us On Twitter

Follow Us On Instagram
Also on HuffPost
Celebrities And Their Animal Lookalikes