Competing on the new Food Network Canada series "Chef In Your Ear'' is like sweating through a school-exam nightmare.
Everything — including the subject matter, classroom and teacher — feels unfamiliar. And time is ticking.
On the show, "two absolute kitchen rookies, with a long list of culinary disasters'' go head-to-head to make a dish in an hour.
They have to do so under the instruction of a star chef, who is in an audio/video booth watching them on a monitor and guiding them via an earpiece.
To make things even more complicated, the contestants and chefs don't know the dish they have to make until the last second, when cameras start rolling.
"I think you need a have a little bit of determination, you need to be mature and you need to be able to take direction without being offended,'' says chef Rob Rossi, owner of Bestellen restaurant in Toronto.
"You have some people take the criticism the wrong way and they get a little bit offended, when you're really just trying to help them and you really want to encourage them. And sometimes in the heat of the moment it comes out the wrong way.''
Debuting Monday, the show stars Rossi as well as chefs Jordan Andino, Devin Connell, Craig Harding and Cory Vitiello.
Comedian Greg Komorowski hosts.
"More than half of the cooks that I've had really don't do any cooking at all, whatsoever,'' says Harding, owner of Campagnolo restaurant in Toronto.
"They don't know their way around a pot of boiling water.''
Another challenge: getting used to the contestants' personalities, he says.
"Sometimes people are very frantic and they want to hustle, they want to just run everywhere, they're just bouncing off the walls and you've got to be like, 'Calm down and listen,''' says Harding.
"Some people want (to be) 17 steps ahead of the game of where you're at because that's how they work through it in their head, and if you tell them to do one thing and then the next thing, they get frustrated.''
Figuring out how to guide the contestants has even taught Harding a thing or two.
"You get to learn a little bit about yourself and how to work better in what I do every day in the kitchen and the restaurant, like how to be a better leader and how to describe what I'm getting at and how to be specific,'' says Harding.
"You really think about the words you use and the way you go about it. It's fascinating. I'm totally learning to do what I do every day better, from being here.''
Both Harding and Rossi say they like to stick with a classic approach to the dishes they make on the show.
"To make people use technical, advanced cooking skills, it's not going to be beneficial for them or myself because they're not going to be able to do it right, and nothing looks worse than something half-done,'' says Rossi, who was the runner-up on the first season of "Top Chef Canada.''
"I just want to stay away from that and I want to keep it straightforward so people can wrap their heads around it and start to develop those skills from the bottom up.''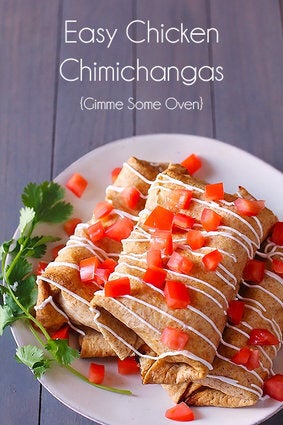 Easy Chicken Recipes The Kids Can Help With