Instagram/dmm_nails
Buyer beware!
Popular indie brand Mentality Nail Polish is currently under fire after numerous users have claimed its polishes are causing some serious nail damage.
Beauty blogs such as The Mercurial Magpie, Imperfectly Painted and Ashley Is Polish Addicted are saying they've experienced redness, burning and nail lifting after using Mentality polishes purchased between April and June of this year.
The results? This:

Yeah. And it gets worse.
Mentality released a #sorrynotsorry statement on its Facebook page, telling users that the damage is simply a "sensitivity" to Arminex, a new base ingredient used in the product, which they have recently replaced. Then, the brand's co-owner, Danny Daniels, posted this rather offensive rant: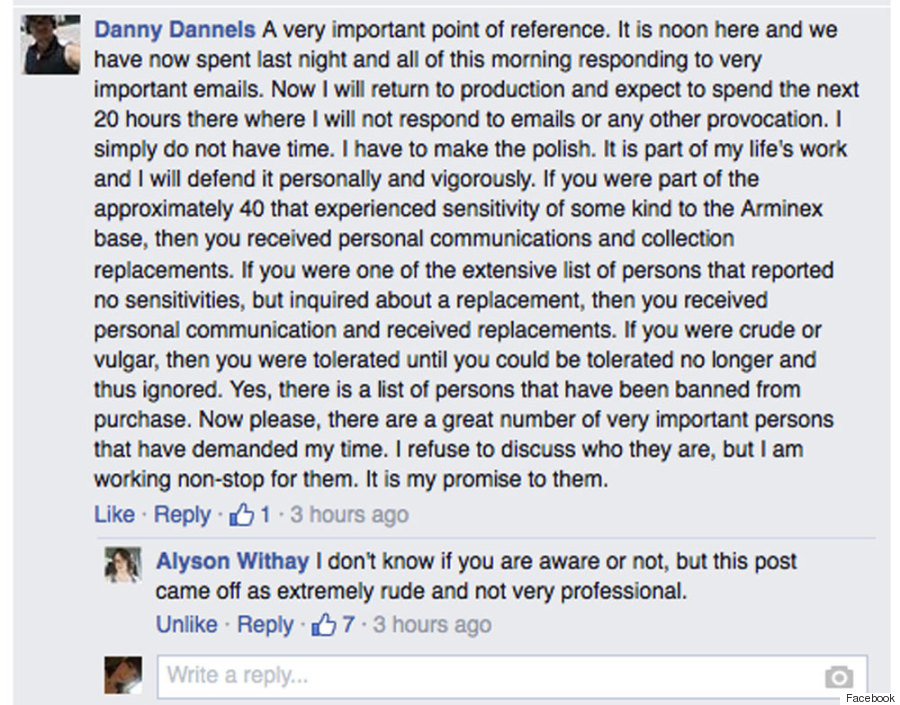 Following that post, Mentality posted another status update on its Facebook page, saying they would not continue to issue refunds of the harmful polish, then proceeded to put the damaging product on sale for half off.
Now the sale that everyone keeps asking for: All neon collections are 50% off for a very limited time! Prices are as...

Posted by Mentality on Sunday, August 23, 2015

Mentality also admitted to not testing the Arminex base because it was "ridiculously expensive."
Following all the drama, Mentality received a cease-and-desist letter from Arminex stating that its formula isn't defective (also posted on Mentality's Facebook), and shortly thereafter, Mentality issued a full recall on all Mentality Nail Polish produced in Arminex base "before their laywers force us to stop using their name in conjunction with the physical damage suffered by our clients."
We say, at this point, it seems as though Mentality just wants to save face, especially after all of the backlash.
Do you think Mentality handled the situation properly? Let us know in the comments below.
Follow Huffington Post Canada Style on Pinterest, Facebook and Twitter!
ALSO ON HUFFPOST: