OTTAWA — Conservatives and Liberals ganged up Sunday on perceived frontrunner Tom Mulcair, saying there's a multibillion-dollar hole in the NDP leader's election platform.
The two rivals differed on precisely how deep the NDP's budgetary hole would be, but both agreed that the NDP isn't being honest about the cost of its election program. They called on their common opponent to come clean with what spending cuts it might make or what taxes it might impose if the party were elected, for the first time in Canadian history, on Oct. 19.
Mulcair, who was campaigning in Halifax, dismissed his opponents' numbers as fictional and called them a sign of desperation by rivals trying to blunt the NDP's early momentum in this marathon campaign. Several polls recently suggested that the New Democrats are in the lead in a tight three-way contest.
The Liberals contended Sunday that there's a $28-billion gap between Mulcair's promises of new spending and his pledge that an NDP government could balance all its budgets during a four-year term.
The Tories' Jason Kenney said there is gap of at least an $8-billion gap in the first year of an NDP government. He said that doesn't include more than 100 other promises the New Democrats have made over the past three years and whose costs haven't been addressed.
"It's something that the Conservatives are making up,'' Mulcair responded. "I am not going to be leaving this type of debt on the backs of future generations. I'll leave that to Mr. Harper and Mr. Trudeau.''
"Politicians that give up on balancing the budget are giving up on Canadians," Mulcair added.
The NDP leader sidestepped questions about whether he would even enter into deficit. He said the Conservatives' cost estimate includes "things that have been presented long in the past'' by the NDP, and which apparently no longer apply.
He called the Tory attack an attempt to distract from the fact that Stephen Harper had run up $150 billion in debt while prime minister.
An NDP government, Mulcair added, wouldn't spend a billion dollars on the Senate or spend billions more in subsidies to the oil patch. It would pay for its program by getting rid of income splitting and taxing Canada's largest corporations, he said.
As for the Liberals' estimate of a $28 billion gap, Mulcair said their numbers were "so fanciful that it defies description.''
Liberal MP John McCallum, a former bank economist, called on Mulcair to produce his own numbers.
"He won't come clean about his math, because the math doesn't add up. We know because we did the math for him,'' McCallum told a news conference.
"Tom Mulcair is not telling the truth to Canadians. He's offering a phony set of promises that he has no intention of keeping.''
"Faced with such an obvious miscalculation, an obvious black hole [in the NDP's platform] … it's not surprising that both of the opponents of the NDP would decide on the same day to attack them for this egregious fiscal error," he added.
Mulcair will have to slash spending or break most of his promises if he's serious about balancing the budget next year, McCallum said.
Kenney posited a third possibility — that Mulcair is secretly planning to impose massive tax hikes.
The NDP's billion-dollar hole isn't made up by the savings Mulcair has so far committed to, Kenney told a separate news conference, as the Tories released a 21-page document outlining spending commitments made by NDP MPs.
How would Mulcair pay for his promises, he asked. "The only reasonable answer, I think, is through other tax increases, probably one of them will be his carbon tax."
"Canadians cannot afford the NDP," he declared.
Kenney pointed to 2012 quotes from Mulcair in which he said a carbon tax could provide billions in new revenue, and the Tories released a Facebook ad suggesting the NDP wasn't being truthful with his plans.
"He is either going to have to cut the spending that they have already proposed and committed to, or raise taxes, or both. It's a question of math, not of opinion," Kenney said.
The Tories have pledged a budget surplus this year, but some experts aren't sure the government will be able to balance the books as promised. The parliamentary budget officer predicted a $1.1 billion deficit, largely because of the dive in oil prices.
Liberal Leader Justin Trudeau set himself apart from the rest of the political pack last week by announcing a plan to run deficits of up to $10 billion for two years in order to stimulate economic growth and job creation.
Among other things, Trudeau is promising to invest $60 billion in infrastructure spending, including on public transit and social housing projects.
In response, NDP candidate Joanne Hussey suggested in Halifax that the Liberals weren't doing enough to try to balance the books.
Trudeau would go into deficit, she said, "not to pay for health care…, not to fund our universities, not to build affordable housing, but because he won't close tax loopholes for CEOs, and he won't ask Canada's richest corporations to pay a little more, and he won't even try to save a single penny on the Senate."
The Liberals have countered that Mulcair is unwilling to tax the richest Canadians and unwilling to cut taxes for middle income Canadians.
McCallum said Trudeau was being honest and responsible by publicly saying the Liberals would run deficits. And the NDP, he suggested, should be careful about increasing corporate taxes too high.
"A big big increase in corporate taxes won't necessarily generate the revenue that they are imagining, because it will kill jobs and therefore there will be less total tax revenue," he said. High corporate taxes would also create an incentive for companies to report their profits elsewhere, he added.
Mulcair has promised to eventually release a full cost accounting of the NDP's platform, detailing where he would get the money to pay for all his commitments.
Neither the Liberals nor the Conservatives have released their own platforms with full costing. But that hasn't stopped them from doing their own math on the NDP's yet-to-be-released numbers.
Kenney said his party used "the most conservative estimates possible,'' based on numbers provided so far by the NDP, as well as the parliamentary budget officer.
The Liberals said they, too, used NDP numbers, fiscal projections for the next four years from the last federal budget and the parliamentary budget officer's most recent fiscal outlook.
Both parties have made some assumptions that may or may not be accurate. For instance, the Liberals assume Mulcair would generate $460 million in revenue in his first year as PM by raising corporate taxes; the Conservatives estimate an NDP corporate tax hike would raise $3.7 billion in the first year.
Mulcair has not yet specified how high he would raise corporate taxes, other than to say the rate would remain "far below'' the average under the Conservatives of 17.5 per cent. The federal corporate tax rate is currently 15 per cent.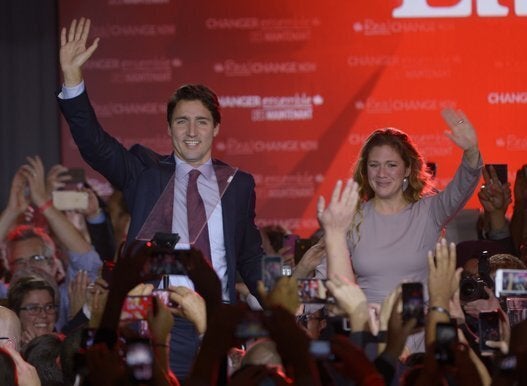 In Photos: Canada Election 2015