Nicki Minaj and Taylor Swift have finally put an end to their "Bad Blood" she-said-she-said feud, by surprising everybody with a duet at the 2015 MTV Video Music Awards on Sunday.
The two quickly became rivals last month after Minaj expressed her disappointment over not earning a Video of the Year nomination for her "Anaconda" video, and implied the snub was due to her body type and race. Thinking Minaj was attacking her personally, Swift fired back with comments of her own which resulted in a fiery discussion about cultural appropriation. Once Minaj clarified her comments, the two publicly apologized to each other but many questioned its authenticity.
However, the pair gave little reason to doubt they had indeed reconciled following their unexpected performance together. Minaj opened the show with a rendition of "Trini Dem Girls" before switching it up with "The Night Is Still Young," during which Swift joined her on-stage. Swift and Minaj played up their conflict by holding hands, and quickly segued into the former's hit, "Bad Blood," which, of course, earned the coveted Video of the Year nomination Minaj was fighting for.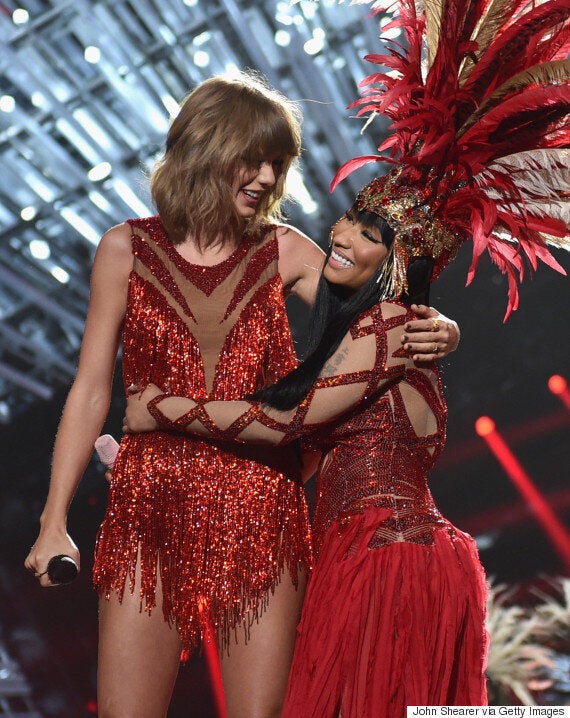 This reconciliation quickly broke the Internet, and even drew the attention of perennial VMA presenter Britney Spears.
"Nice job Nicki and Taylor, what a way to open the show!" said Spears, minutes later. "That is an instant classic VMA performance."
But there's no hard feelings, as the "Starship" rapper laughed off the exchange on Twitter, writing:
What was the most shocking moment of the night? Sound off in the comments below.