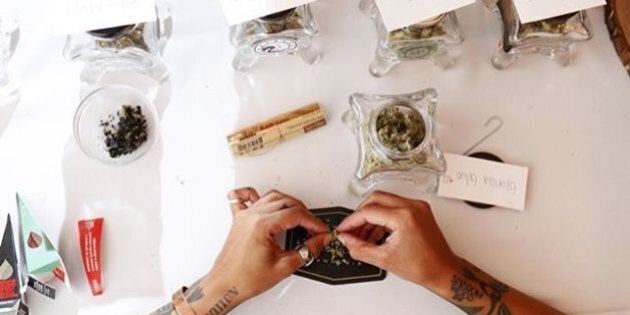 Forget the free booze — this couple had a open weed bar at their Oregon wedding.
It's the kind of thing that made sense for medical marijuana grower John Elledge — who lives in California, but was raised in Oregon —when he married Whitney Alexander on a Christmas tree farm earlier this summer.
By refraining from serving alcohol, and hosting the wedding on private property, Elledge and Alexander were able to keep their party completely legal. "We know the limit is 8 ounces so we had small amounts of 13 varieties with a 'budtender' controlling consumption," Elledge said.
The couple even provided guests with transportation. Elledge told KGW, that he continued to receive texts and messages from guests praising the bar, days after the wedding. "Even an 81-year-old woman who hadn't smoked weed since the '60s came into the tent at our wedding," he said. "Though skeptical at first, she ended up loving it."
We don't imagine this will be the last wedding with this kind of service.