More Miley Cyrus MTV VMA controversy!
Following the backlash for her dreadlock hairstyle at the show, the 22-year-old pop star is now under fire for supposedly ripping off Australian brand Di$count Universe's designs for one of the her costumes worn on Sunday evening.
The outfit in question was from Miley's grand finale where she performed/debuted her new song "Dooo It" along with 31 drag queens. It featured key elements of the Melbourne-based cult fashion label's trademark style (large, eye-shaped graphics and glittery, angular colourblocking) but was designed by Brad "BCalla" Callahan and Miley's stylist, Simone Harrouche.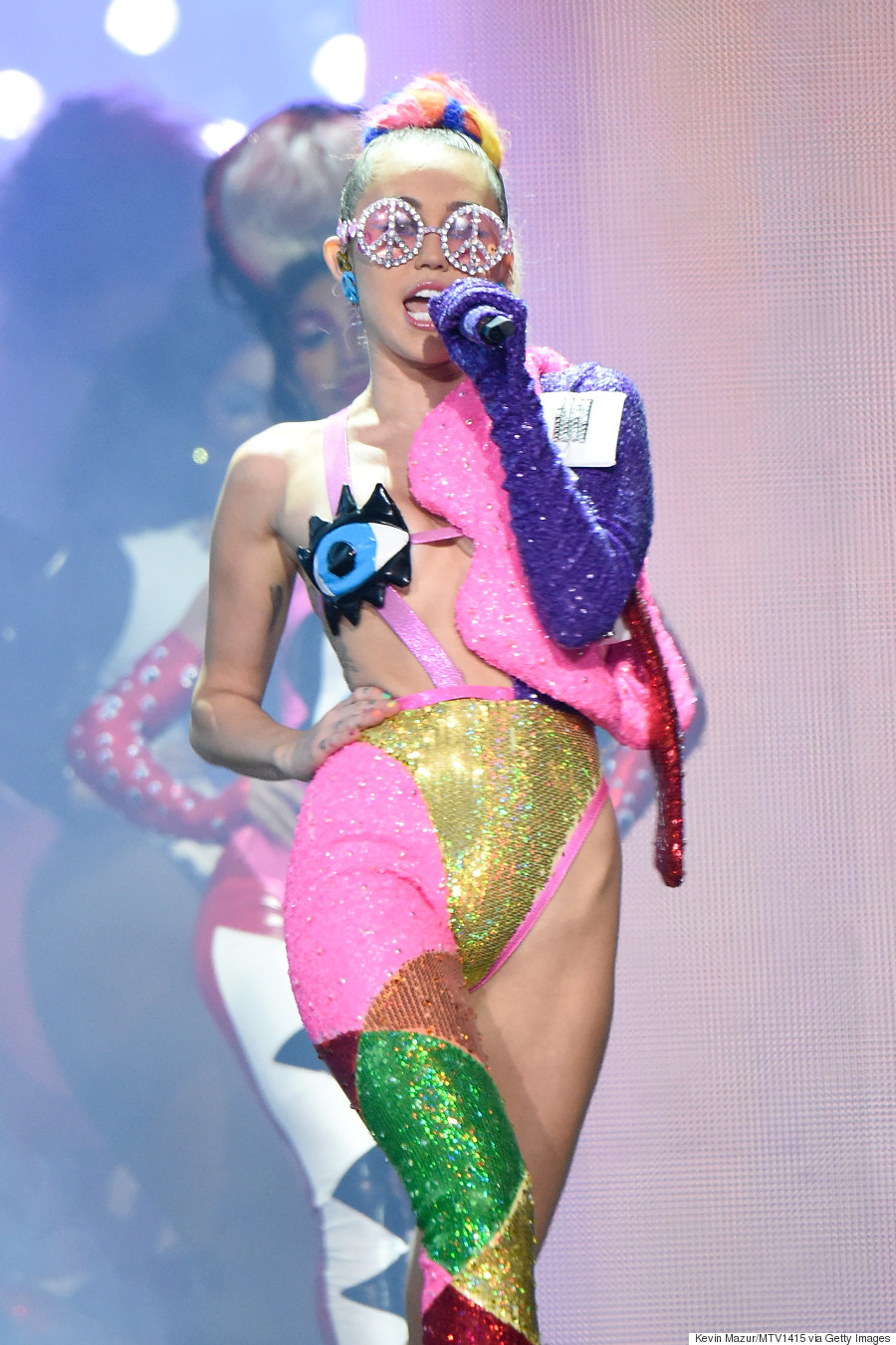 Here's a Di$count Universe design, for reference.
VFILES, who owns Di$count Universe, took to Twitter yesterday to condemn Cyrus' actions.
A statement from VFILES founder @JulieAnneQuay regarding the VMAs: pic.twitter.com/kvFDxIkxbd

— VFILES (@VFILES) August 31, 2015

Di$count Universe also expressed their distress via social media, albeit in a more passive aggressive way.

They later released a more formal statement regarding the matter:

What's most bizarre about all of this is that Miley is a longtime fan and unofficial brand ambassador for Di$count Universe. The "We Can't Stop" songstress helped popularize the label's "PRAY FUR UR LYF" tee in a shoot with Terry Richardson, which was used as imagery for Cyrus' Bangerz tour. She's also been featured numerous times on the brand's Instagram page.

When asked for comment, Harouche told Yahoo! Style the whole debacle was "very sad" and that Discount Universe wasn't even a reference point when she and BCalla started creating the looks.
"It's very sad that people need to use Miley's amazing performance as an opportunity to create press for themselves, when they had nothing to do with the creative process," told the publication. "It's unfortunate that they're taking away from this young designer's opportunity to make something special for Miley."
So far, Miley has yet to comment.
Follow Huffington Post Canada Style on Pinterest, Facebook and Twitter!
Also on HuffPost