Parts of Paris' downtown core will be closed to cars for one full day, allowing pedestrians and cyclists to reclaim city streets.
La Journeé Sans Voiture, French for "day without a car," is set to take place Sunday, Sept. 27, 2015. Roads in the first through seventh districts, and several popular tourist areas including the Champs-Elysées and Eiffel Tower, will be cordoned off to keep motor-powered vehicles out.
"Paris will be completely transformed for a day," said Anne Hidalgo, the city's mayor in March. "This is an opportunity for Parisians and tourists to enjoy the city without noise, pollution and therefore without stress."
The event — the first of its kind in the city — is a temporary one, but it's meant to serve as a means of helping people conceptualize the benefits of an alternative urban lifestyle: one with reduced (or eliminated) car congestion.
Paris Sans Voiture organizers say their intention is to pull people out from their private cars and into the streets for a "huge civic celebration." Live music and other events have been scheduled.
"It will be an opportunity to accelerate behaviour change positively imagining the city of tomorrow," reads the group's site. One of the overarching goals is to show how limiting car traffic is one way to address the city's air pollution problem.
Smog in Paris almost reached "critical" levels in March, briefly catapulting it ahead of New Delhi and Beijing for the title of city with the worst air pollution in the world.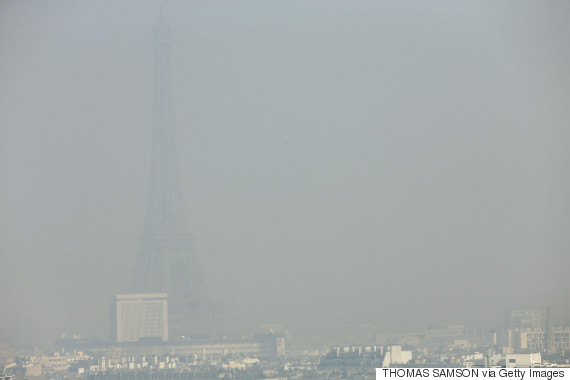 A view of the Eiffel Tower seen through thick smog, on March 14, 2014, in Paris.
Over a dozen air pollution warnings were issued for the city before mid-April. Last year, Euronews reported the city banned half its vehicles from roads — and immediately reduced its pollution level by six per cent.
But as far as car-free events go, Paris is no pioneer in. Vancouver, Toronto, and Montreal have all organized various events closing off major streets and entire neighbourhoods to traffic in the past few years.
The popularity of the event even prompted city officials in Bogota, Colombia to extend their one-day event into a week-long celebration of car-free culture last year.
Paris' upcoming car-free day will arrive in the lead up to the United Nations' World Climate Conference, scheduled to kick off at the end of November. The conference will bring political and environmental leaders to the French capital to address emerging and long-standing global warming issues.
ALSO ON HUFFPOST: