Don't all jump at once, now, but the University of British Columbia is handing out scholarships for $0.
One student named Dylan, who will be starting at UBC this month, got an email Tuesday congratulating him on receiving the Chancellor's Scholar Award.
"The first paragraph: 'The University of British Columbia is pleased to offer you the Chancellor's Scholar Award in the amount of $.00 for the 2015W session.'" Dylan, who asked us to leave out his last name for privacy reasons, wrote on Reddit.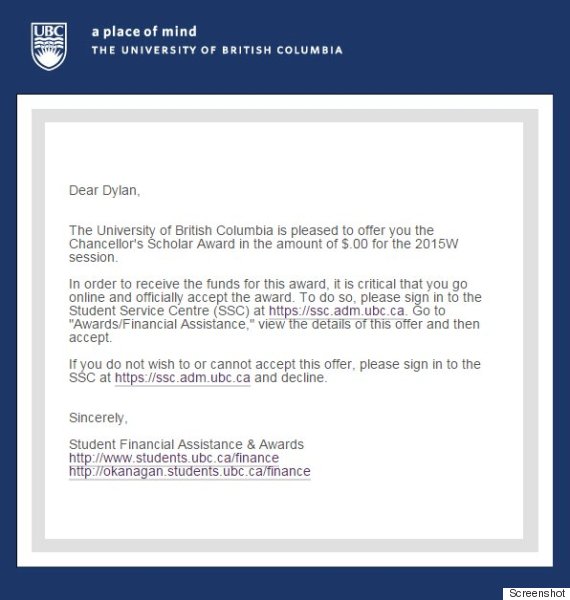 A screenshot of the email UBC sent to Dylan.
The scholarship is given to incoming students with a grade point average of at least 95 per cent.
"I already knew of this non-award, but do you have to send out emails after the fact? It's like a bad practical joke," Dylan wrote.
But wait! It gets better: several students also got the same congratulatory email — but they can't actually accept the award.

The award replaced the President's Entrance Scholarship — which came with a financial grant of up to $4,000 — in 2012.
So, uh, we guess congratulations are in order?
(H/T The Ubyssey)
Like Us On Facebook

Follow Us On Twitter

Follow Us On Instagram

Also On HuffPost: