A protester who wore a shirt emblazoned with the words "Aylan should be here" to a Stephen Harper event said he doesn't regret being arrested.
Sean Devlin, 32, said he wanted the Conservative leader to acknowledge the death of three-year-old Alan Kurdi, a Syrian boy who drowned trying to flee across the Mediterranean with his family.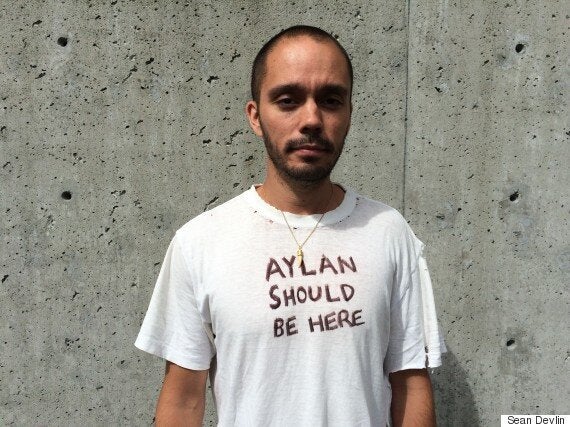 (The Turkish government originally identified the boys' names as Aylan and Galip, but their aunt says they're actually spelled Alan and Galib.)
"Seeing the images of that boy was heartbreaking," Devlin told The Huffington Post B.C. in a phone interview Thursday.
"I just wanted to let people know that [Alan] could've been here — I wanted the prime minster to acknowledge that this boy could've been safely here and not face down, dead on a beach in Turkey."
On Thursday, Harper was campaigning in Surrey, B.C., but the photo-op was cancelled so that he could comment on the refugee crisis.
Devlin walked into the event wearing a blazer over his shirt. He said that a photographer from Harper's team asked him to stand on stage "because they needed more young faces behind the prime minister."
Before Harper came out, Devlin said a security member noticed the shirt and asked him to leave.
"I told him that I'd been invited on stage and that I wanted to stay," Devlin said.
He was then handcuffed and taken outside. Police subsequently told Devlin he was being arrested for obstruction of justice and resisting arrest.
"One of the first questions they asked me was if I was from Iran, and I have no idea why I was asked that," added Devlin, who was born in Ottawa.
He was released later Thursday morning and has not been charged. HuffPost B.C. is waiting for a statement from the RCMP.
"I'd do it again, you bet. People need to know what's happening," said Devlin. "That boy didn't need to die, and I just wanted our prime minister to acknowledge that."
Canada must stay the course
The Conservative leader said Kurdi's image made him think of his own son, Ben, at that age.
Harper said that's why Canada must stay the course, both militarily and by providing humanitarian aid to those affected by the continuing violence.
He added that Canada will admit more refugees from the region, but must also continue to stand with its allies in the fight against the extremists who are forcing people to flee their homes.
With files from The Canadian Press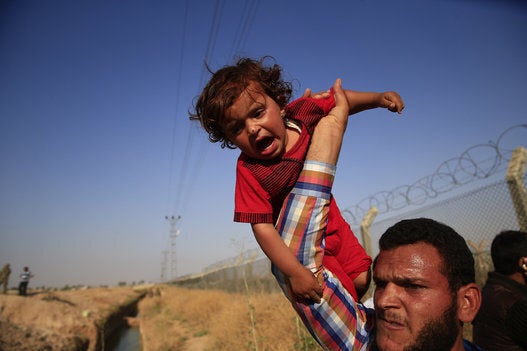 Syrians Flee Into Turkey, June 2015