A Calgary woman says she is shocked that a smiley photo she posted of her and her ex-husband minutes after they signed their divorce papers is getting so much attention.
"It was never meant to celebrate divorce, by any means. We really don't feel that way," said Shannon Neuman about the post, which has been shared more than 30,000 times on Facebook.
Although she now has second thoughts about making the post public, she said the overall message of putting your kids first in a divorce is still a good one.
"If two people can smile at the end of each other and not hurt each other and not hurt anyone else along the way, then that's a positive."
She said she got the idea to take the selfie after an employee at the Calgary courthouse made a comment about the happy demeanour of the ex-couple.
"After processing it for a while, I was really proud and really happy that we had set a goal to go through this process in a positive way and come out on the other side as friends," Neuman said.
In the post, Neuman asked people to share that message.
"Please consider our way if you find yourself on this road, or share our message if we can help remind them that it's possible to love your kids more than you hate/distrust/dislike your ex," she wrote.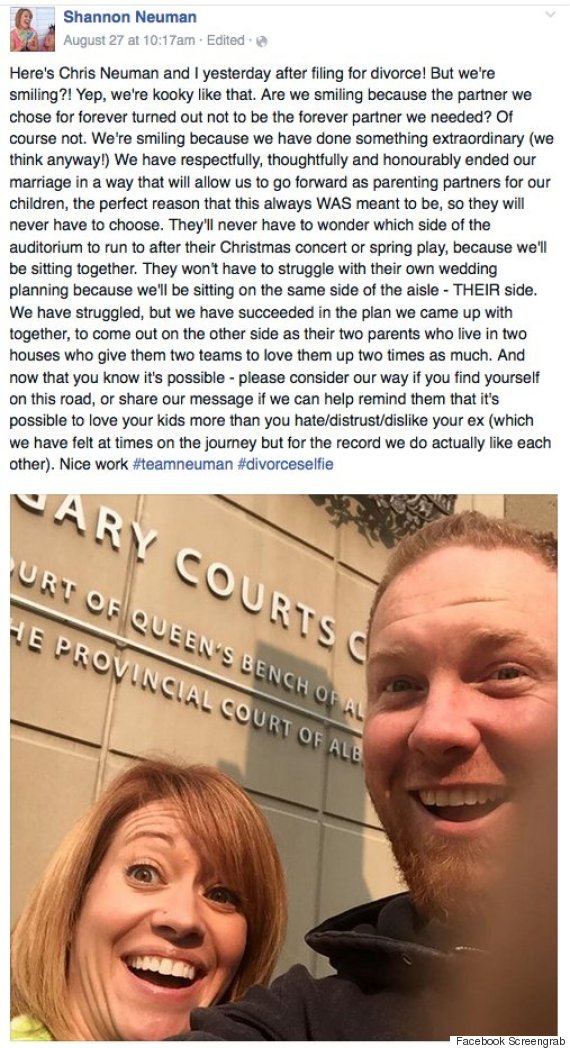 But Neuman said the selfie was just meant to be an "update" to her friends and family that her divorce had been finalized, since the couple had separated almost four years ago. She says she could have never predicted just how much steam it would pick up on social media.
When asked why she tagged the post with #divorceselfie if she didn't intend for it to go viral, Neuman said she and her ex-husband "sort of make fun of each other with hashtags." 
She said the response to the post has been mixed.
"We've had people come and say, 'You guys don't know anything, you've been divorced for five minutes,' but I also wanted people to know that this has been a long, hard journey for us. This was the end of the journey, not the beginning."