Three-year-old Alan Kurdi drowned after the boat his family was on flipped in the Aegean Sea. His five-year-old brother Galib and mother, Rehan, also died.
Photos of the Syrian boy's body on a Turkish beach Wednesday renewed international attention on the prolonged humanitarian crisis, and how Europe is handling a mass migration of refugees across dangerous waterways.
Peter Bouchkaert of Human Rights Watch writes:
What struck me the most were his little sneakers, certainly lovingly put on by his parents that morning as they dressed him for their dangerous journey. One of my favorite moments of the morning is dressing my kids and helping them put on their shoes. They always seem to manage to put something on backwards, to our mutual amusement. Staring at the image, I couldn't help imagine that it was one of my own sons lying there drowned on the beach.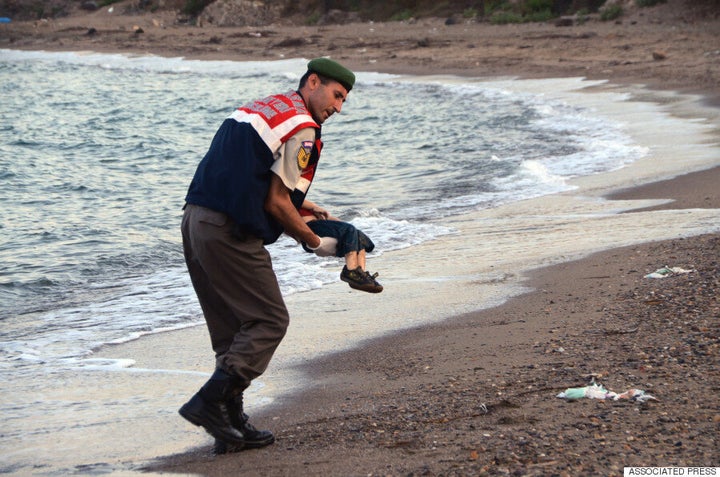 A Turkish police officer carries the lifeless body of Alan Kurdi off a beach on Sept. 2. (DHA/Associated Press)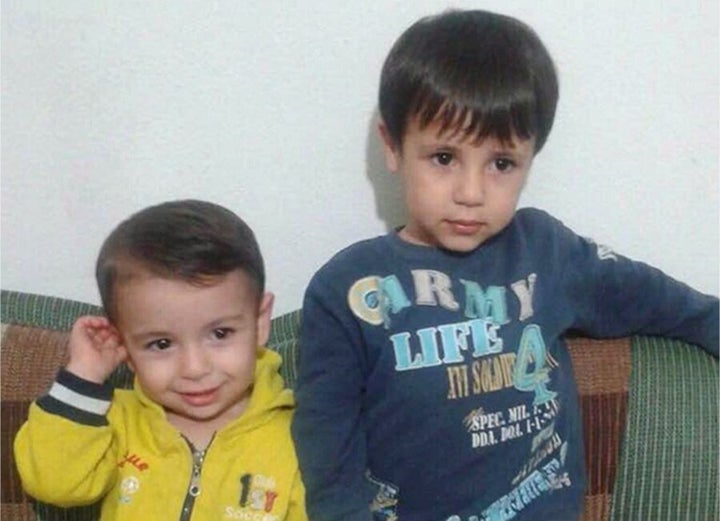 Alan Kurdi, left, and his brother Galib Kurdi. (Photo courtesy of Tima Kurdi via CP)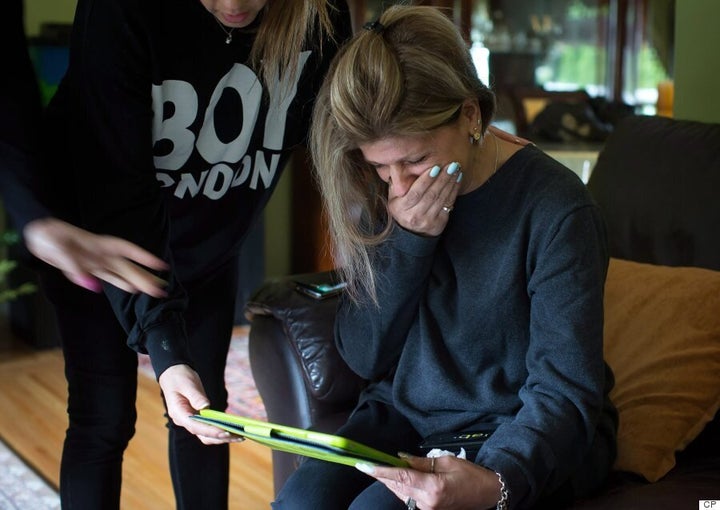 Tima Kurdi is overcome with emotion as she looks at photos of her late nephews Alan and Galib at her home in Coquitlam, B.C., on Sept. 3. (Darryl Dyck/Canadian Press)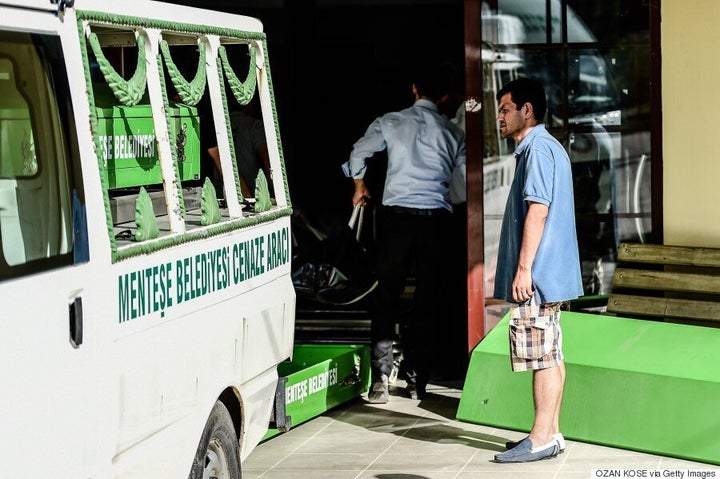 Abdullah Kurdi, father of Alan and Galib Kurdi, waits at the morgue in Mugla, southern Turkey, on Sept. 3. (Ozan Kose/AFP/Getty Images)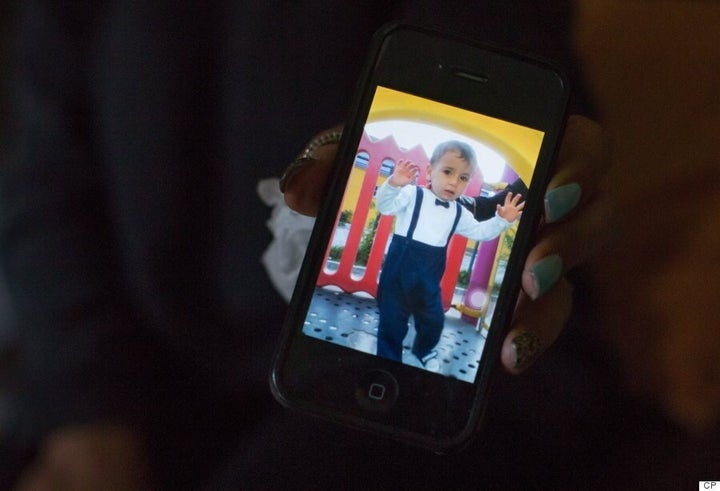 Tima Kurdi shows a photo of her three-year-old nephew Alan Kurdi on her phone during an interview at her home on Sept. 3. (Darryl Dyck/Canadian Press)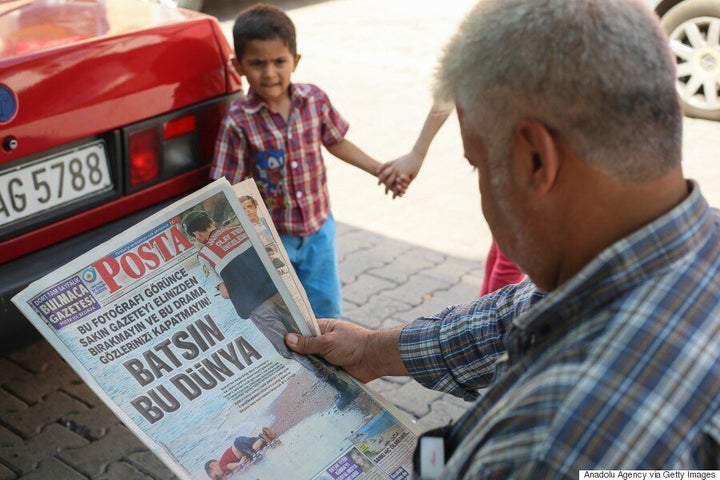 A Syrian man who escaped from Syria with his family looks at the photo of Alan Kurdi found dead at a beach on a newspaper at a park in Izmir, Turkey on Sept. 3. (Emin Menguarslan/Getty Images/Anadolu Agency)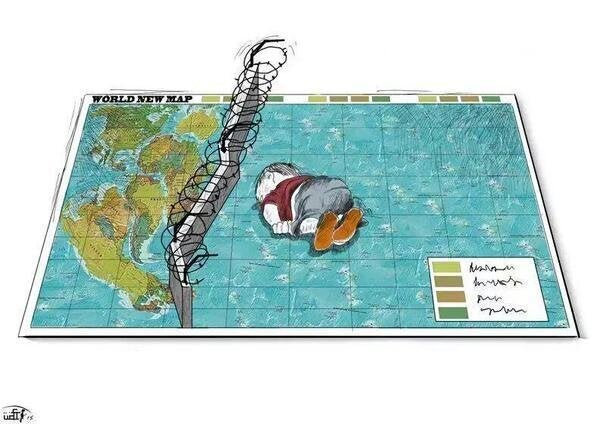 An artists' tribute to three-year-old Alan Kurdi.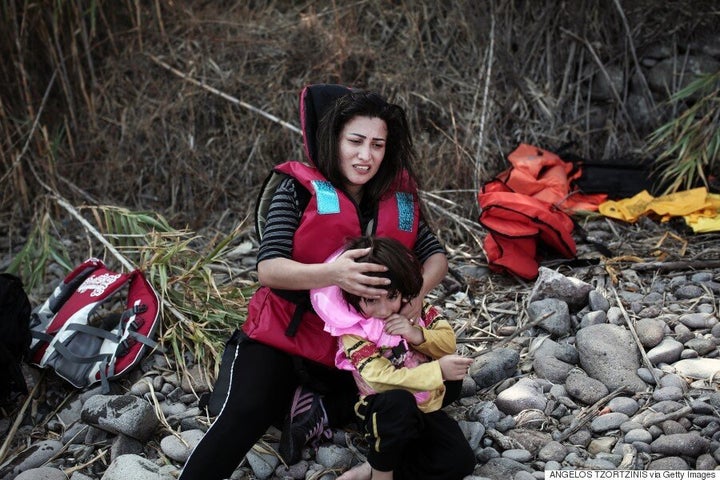 A refugee hugs her child after arriving on the shores of the Greek island Lesbos in an inflatable dingy across the Aegean Sea from Turkey on Sept. 3. (Angelos Tzortzinis/Getty Images/AFP)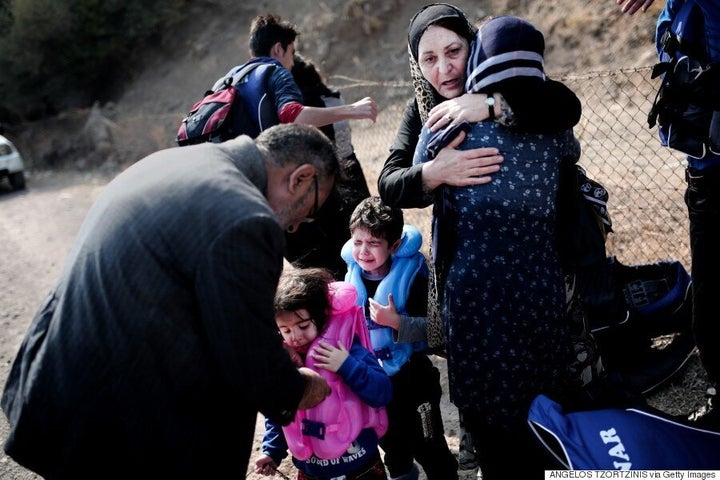 Children are comforted after arriving on the shores of the Greek island Lesbos in an inflatable dingy across the Aegean Sea from Turkey on Sept. 3. More than 230,000 refugees and migrants have arrived in Greece by sea this year, a huge rise from 17,500 in the same period in 2014. (Angelos Tzortzinis/Getty Images/AFP)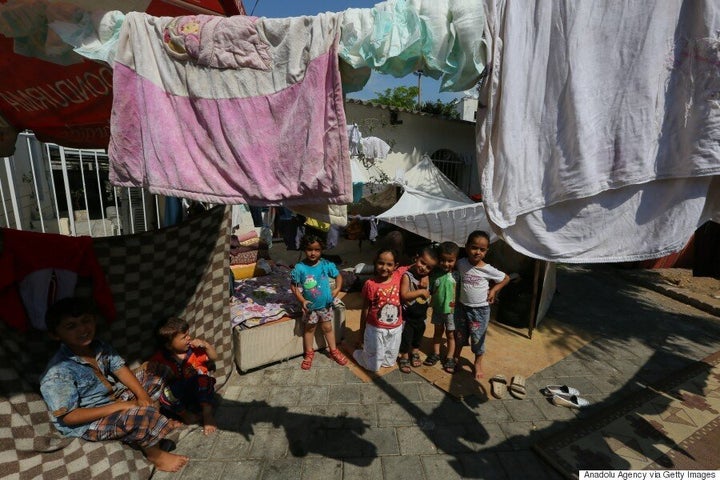 Syrian children who escaped from Syria with their families are seen under a tent made with sheets and clothes at a park in Izmir, Turkey on Sept. 3. Syrians who came to Turkey's Izmir province to go to European countries by sea live in tents that they set up at parks and streets. (Emin MenguarslanGetty Images/Anadolu Agency)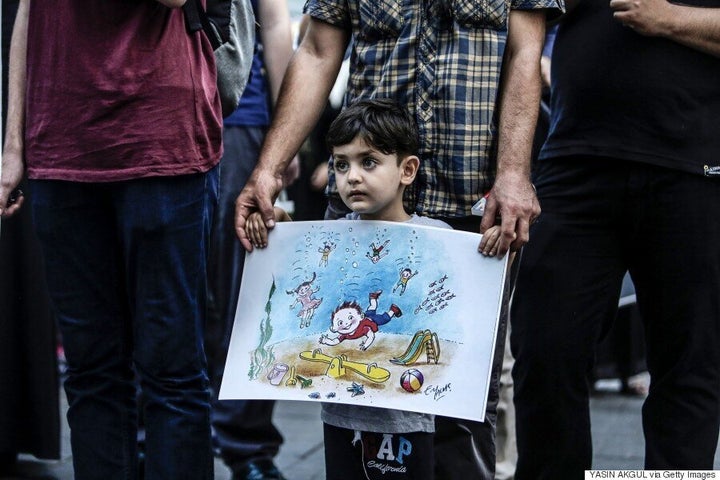 A young boy holds a cartoons showing children under water, on Sept. 3, 2015 during a demonstration in Istanbul, after a boat carrying migrants sank as it crossed to the Greek island of Kos. (Yasin Akgul/Getty Images/AFP)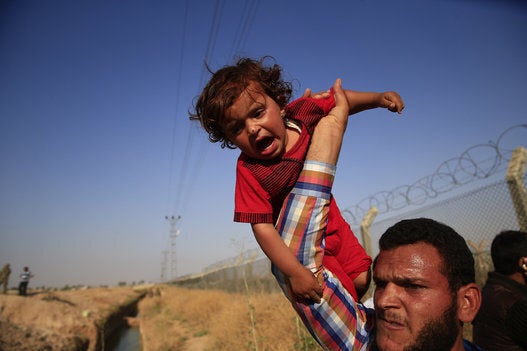 Syrians Flee Into Turkey, June 2015