Add tush-thumping paraphernalia to the list of goods where American consumers have greater options, only in this case the huge gap in choices between Amazon.ca and its American site tells a fascinating sociological story.
It's the story of fraternities.
The Greek-letter organizations are much more prevalent in the U.S., hence the bigger market for hazing instruments — or as the sellers describe them, stained-wood, engravable, spanking-themed college souvenirs.
How did this Canada-U.S. cultural divide occur? The answer goes back a couple of centuries, but a good starting point for understanding it happened in the summer of 1984.
Just days after Hollywood released "Revenge of the Nerds," further entrenching Greek life in American popular culture, then-president Ronald Reagan signed into law the National Minimum Drinking Age Act, making it harder for anyone under 21 to score booze in a commercial establishment.
It just so happened that campus clubs were sitting on a few billion dollars' worth of private property, accumulated since the early 19th century — frat houses.
These houses have provided a sanctuary for insobriety in a way Canadian kids might not appreciate, given their ability to waltz into bars at age 18 or 19 and demand Molsons without fear of bouncers checking ID.
"Greek life can dominate the social scene at (U.S.) colleges and universities," said Susan Lipkins, an expert on fraternity initiations who runs the site insidehazing.com.
"If you look at the universities you can say, 'Oh, it's only 10 to 20 per cent (enrolment),' one would think they don't have that much power. But they do...
"They're in charge of parties."
Enrolment numbers illustrate why there's so much more Greek-themed college memorabilia on Amazon.com than Amazon.ca.
Sorority membership has practically doubled in the last decade, with about 660 chapters in the National Panhellenic Conference. Only a dozen are in Canada. Same for fraternities: Tau Kappa Epsilon is the biggest in terms of chapters, with 259. Five are in Canada.
American fraternities have their own Washington lobbyists, and a political-action committee that's already donated US$49,000 to 2016 campaigns, all working to block any legislation harmful to their interests.
They've even created an insurance fund to protect against that other great American pastime: litigation. Atlantic Monthly magazine has described how the personal-injury industry began targeting fraternities after a US$21 million lawsuit award in 1985 — the threat persists, as more than 60 kids have died in fraternity accidents since 2005.
Insidehazing.com chronicles the occasionally life-threatening, sometimes-illegal, frequently-degrading things American kids will do to get pledged.
Some are just baffling — like the one involving sex with a goat.
Police on a Kentucky campus a decade ago discovered an unsuspecting farm animal that was to be on the receiving end of a hazing ritual uniting man and ruminant. Fraternity members insisted they merely intended to scare pledges — not force them to conduct bestiality.
It's a far cry from the original fraternity, founded at Virginia's College of William and Mary in 1776 — a century before the first Canadian fraternity chapters opened.
Inspired by medieval societies and their secret initiations, it was named Phi Beta Kappa because one founder was a recognized Greek scholar.
"Beer kegs, toga parties, and goldfish eating were not yet part of the Greek curriculum," says the book "Inside Greek U."
Frats prided themselves on training the next generation of leaders in business, law and politics — compared to those pious students preparing for the clergy.
They succeeded. Eighteen U.S. presidents, 31 per cent of all Supreme Court justices and a disproportionate share of Fortune 500 CEOs have participated in Greek life, according to the North-American Interfraternity Conference.
As colleges opened to the masses, the culture changed.
When women and minorities arrived, some disturbing behaviour followed — including sexual assault and racial segregation. A 1952 incident telegraphed a new hyper-machismo: the state of Missouri called in the National Guard amid the bedlam of the earliest known panty raid.
They still offer benefits — professional networking, cheaper housing.
One benefit is especially relevant in the U.S.: remedying loneliness.
American students are likelier to be away from home. Twenty per cent leave their state, double the rate of Canadian undergrads who study out-of-province, according to Universities Canada's analysis of federal data.
Patrick Zingaro didn't know anyone when he arrived in North Carolina. The Delaware native found friends, parties, and even got involved in charity events through Pi Kappa Alpha.
"I was a long way from everyone that I knew. So it was nice to kind of have an opportunity to join in with a larger group of people, and have my social calendar filled," he said.
Robert Vesce arrived at a small college in rural Pennsylvania, and found lifelong friends. At his upcoming wedding, three of the four groomsmen are Sigma Alpha Epsilon brothers.
Canadian Supriya Dwivedi would hear about these cultural difference when she attended university in her hometown, Montreal. She heard from American sisters that Greek life was their ticket to affordable housing and parties.
Which wasn't the case in Montreal.
"At McGill it wasn't like being in a sorority or frat was necessary or even viewed as being something cool," said Dwivedi, now a public-affairs consultant.
"Most of the time when people found out I was in a sorority, their initial response was to ask me, 'Why?'"
As for the hazing, several Americans interviewed said it wasn't so bad. They compared it to military boot camp — an unpleasant means toward bonding.
They had to study obscure details about their fraternity and recite them under pressure. Zingaro recalled only one incident: a cut on his elbow from being forced to lie in a basement.
That, and they made him drink a live goldfish.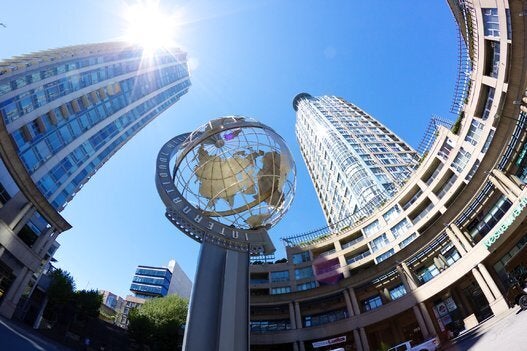 Best Subjects At Canadian Universities