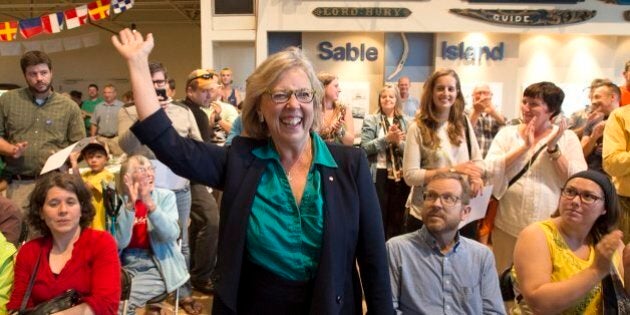 The Green Party released its full platform Wednesday — making it the first federal party to do so with just over five weeks left until the election.
"We've been operating through ad hockery, and we've been operating under an elected dictatorship of one-man rule," said Leader Elizabeth May at a news conference in Vancouver.
"So if you want new ideas, don't go to the old parties."
She hammered Conservative Leader Stephen Harper during her speech, accusing him of committing "acts of serial vandalism to virtually every area of public policy."
The incumbent Saanich-Gulf Islands MP called her budget "fully costed" and balanced.
May also acknowledged speculation a minority parliament is real possibility after October's vote, but called herself an optimist — a message borrowed from late NDP leader Jack Layton.
"I want Canadians to take care of each other," she said.
'Climate' officially added as plank
The 44-page document recycles some of the party's pledges from the last election, but it also contains some ambitious new goals.
"We are the party of bold ideas that work, and Greens believe Canadians are ready for decisive action that will make us world leaders again," she said in a statement.
"Sustainable economic plans, aggressive climate action, democratic reforms, and national strategies to support our communities: This is what the Green Party stands for."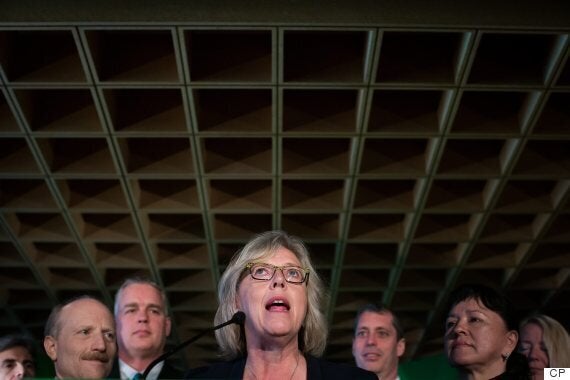 Green Party Leader Elizabeth May, centre, is flanked by local candidates while speaking during a campaign event in Vancouver on Sept. 9. The Canadian Press/Darryl Dyck
Gone is the controversial "toxic tax" on harmful chemicals proposed in its last election platform. But its pledge to increase Canada's corporate tax rate to 19 per cent remains in place.
Another difference from the party's previous platform is an increase in revenue a Green government would collect under a personal marijuana tax after legalizing it.
Four years ago, the party campaigned on three key planks: the economy, communities, and democracy. This time round, the Greens formally added "climate" as one of their four central issues.
The party blamed the Conservative government for putting "high polluting industries" ahead of implementing effective measures to protect the environment.
"They have failed to act in the face of an ever-growing climate crisis, instead gambling our future on more pipelines, more fracking, and risky tankers on our coasts," reads the document.
Greens: Bill C-51 will 'trampede' our rights
If a "Green Parliament" is elected, repealing Bill C-51 will be a "top priority," the party says.
"Canada already has effective anti-terror laws that do not trample on our rights as egregiously as Bill C-51 does," the platform reads, assailing it as a piece of legislation that "infringes on the political and civil rights" of Canadians.
Also on the Green's chopping block is Bill C-24, a new law that allows the federal government to revoke citizenship from dual citizens under certain circumstances.
The party also pledged to establish a "Council of Canadian Governments" to improve discussion across federal, provincial, territorial and municipal levels. Representation from First Nations, Métis, and Inuit will also be included.
May also proposed to drop tuition fees for low-income students, following initiatives countries including Germany, Norway, and Sweden have made to their own public education systems.
Last month, when criticized by NDP Leader Thomas Mulcair during August's leaders debate of being "opposed to every single possible use of our military," May responded by saying, "That's not true," before the topic shifted to the military's mission against ISIL.
On Wednesday, the party stated its military mandate is to buy new military equipment that suit Canada's defence requirements.
To bootstrap the Greens' plans, the party listed its intention to "redesign our tax system for the 21st century economy," and specified on its website the measures it would implement to achieve its ambitious goal.
Read the full platform below:
CLARIFICATION: An earlier version of this story stated the Green Party excluded marijuana taxation measures. That erroneous piece information was picked up from an advance copy of the party's 2015 platform. The Green Party is still dedicated to legalizing and taxing marijuana. This version has been updated.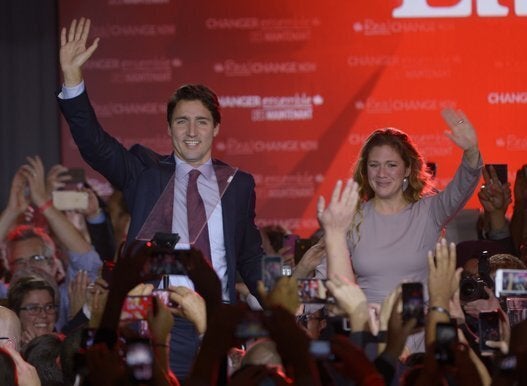 In Photos: Canada Election 2015