Another Canadian musician has come out in favour of the federal NDP.
Juno Award-winner Joel Plaskett says he's casting a ballot for Thomas Mulcair's team because of the NDP's commitment to repeal Bill C-51 — the Conservative government's anti-terror law — and pledge to call a national inquiry into missing and murdered indigenous women within 100 days of forming government.
"Used to try keep my politics to myself but not in this election. The NDP has my vote for these two important reasons," wrote the Halifax singer-songwriter Tuesday on Twitter, sharing
Mulcair thanked Plaskett with a tweet Wednesday morning, saying that "with support like yours we can and will build the Canada of our dreams."
The Huffington Post Canada has reached out to a representative of Plaskett's for more information on his endorsement and will update this story if we hear back.
NDP candidate (and musician) Andrew Cash, running for re-election in Toronto's Davenport riding, snapped a photo with the singer.
Last month, Grammy winner Leslie Feist announced her support for Cash, lauding him in a press release as "an honest and reliable MP, true to his word in representing our community's concerns." The "1234" singer also canvassed with Cash.
The Liberals also have support from other Canadian entertainers. Last December, musician Chantal Kreviazuk announced she was backing Liberal Leader Justin Trudeau and urged others to donate to his party.
"We need a bridge builder, someone who is not caught up in negativity, but dedicated to progress and a sensible outlook on the future for our children," she said in a fundraising pitch. "We need someone who we can look up to."
Musicians come together for #ImagineOct20th events
Feist is also part of a coalition of musicians, including Dave Bidini, Dan Mangan, and Torquil Campbell, that will hold a series of concerts in the coming weeks to encourage young people to oust the Conservatives.
Dubbed #ImagineOct20th — a reference to the day after the federal election — four shows have already been scheduled in Toronto, Winnipeg, and Vancouver.
According to their website, the musicians are urging proceeds be donated to Lead Now, an advocacy group dedicated, in part, to stopping vote-splitting in key swing ridings that may benefit Tory candidates.
The website states that while the NDP has the best shot at forming government, according to polls, "in many ridings with strong Liberal or Green Party candidates, it makes more sense to vote strategically" to defeat Tories.
The site also lists a number of grievances with the Harper government, including Bill C-51, the "muzzling" of federal scientists, and the Mike Duffy scandal.
"Imagine a Canada beyond Harper. Talk to your friends about it. Speak it out loud. Write a poem on a napkin and leave it behind in a restaurant. Write a protest song. Take a deep breath. Imagine a new Canadian era; imagine it and it can be real," reads the site.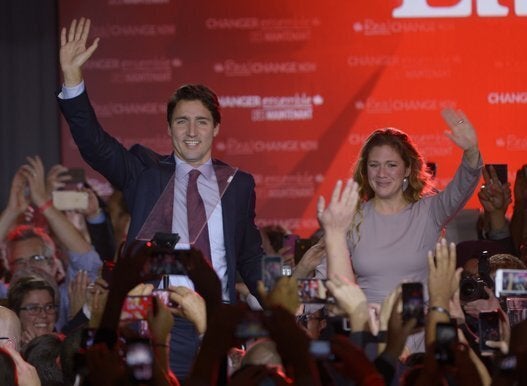 In Photos: Canada Election 2015