If given the chance, Justin Trudeau says he will take a different approach to governing than his famous father.
"My father had a particular way of doing things. I have a different way," Trudeau told CBC's Peter Mansbridge in a one-on-one interview that aired Tuesday. "His was suited to his time and mine is suited to mine."
Trudeau conceded that Pierre Trudeau was the first prime minister to concentrate power in the Prime Minister's Office — perhaps an unusual admission from a Liberal leader who has been accused by rivals of coasting on dad's coattails.
He told Mansbridge he quite liked the "symmetry" of being the prime minister to end that practice.
While it's unclear if Canadians will give him that chance, the Liberal leader's interview — which aired a day after Mansbridge's talk with Conservative Leader Stephen Harper — touched on a range of topics, including the very positions that some now point to as proof that Trudeau's "not ready."
Here are six key moments.
Trudeau doesn't regret voting for C-51
The Liberal leader's decision to support the Harper government's controversial anti-terror legislation may have cost him support last year and given a boost to Thomas Mulcair's New Democrats, who opposed the bill from the start.
But Trudeau told Mansbridge he does not regret making that call, saying a polarizing "political context" shouldn't prevent Liberals from taking responsible positions. Trudeau said his party can balance security with individual liberties, as it did in the years after 9/11.
"Mr. Harper wants us to be fearful that there might be a terrorist hiding behind any given tree," he said. "Mr. Mulcair wants us to be fearful for our security, for our rights and freedoms. I've said no. We're going to do those things, both, together and we're going to do it in a responsible way."
Trudeau said a Liberal government would move "within months" to bring in "proper" parliamentary oversight of security agencies and sunset clauses for provisions in the law that they deem go too far.
New Democrats have been sharply critical of Trudeau's support for C-51. Two weeks ago, NDP candidates blitzed the ridings of incumbent Liberals who voted for the bill, accusing them of abdicating their promises to stand up to Harper.
The first thing he'd do on the economy? Call the premiers about climate change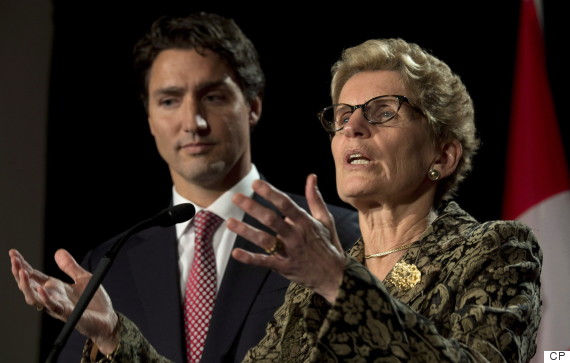 Trudeau, Ontario Premier Kathleen Wynne at a joint news conference in Ottawa. Adrian Wyld/The Canadian Press
At one point, Mansbridge laid out the economic challenges that would await Trudeau if he becomes prime minister in October, including the fact that Canada is officially in a recession.
"What's the first thing you do on the economy?" he asked.
"One of the first things we do…" Trudeau began.
"No. The first thing," Mansbridge interjected.
"Call together the premiers, talk about climate change," Trudeau responded, before referencing the global climate conference in Paris at the end of November.
The Liberal leader added he'd also want to talk to provincial leaders about infrastructure and trade between provinces, but Mansbridge pushed harder on Trudeau's top economic priority.
"So, you need all these other men and women at the table to make those first decisions on the economy that you and your government would make?" he asked.
Trudeau said his party's "decisions are already made" in their platform, but that the country needs to move away from Harper's brand of "solo leadership" that doesn't build partnerships with provinces and municipalities.
"It's about time Canada started pulling together to address the very real challenges we're facing," he said.
Trudeau also defended his decision to run small deficits until 2019 rather than balance the budget right away, as both Tories and New Democrats have promised.
Trudeau says many small businesses help rich Canadians save on taxes
When asked whether he would cut the small business tax rate, Trudeau said he was open to the idea but would need to be sure it was executed the right way.
"A large percentage of small businesses are actually just ways for wealthier Canadians to save on their taxes and we want to reward the people who are actually creating jobs and contributing in concrete ways," he said.
Tories pounced on that remark Wednesday, calling it an "insult" to small business owners.
While @JustinTrudeau insults small business owners @pmharper will continue to deliver:

http://t.co/TiqYMApWoO pic.twitter.com/ksKuiJdCcK

— Ed Holder (@EdHolder_MP) September 9, 2015
Harper also blasted the Liberal leader at an event in Welland, Ont., calling small and medium-sized businesses the backbone of the economy.
"This is somebody running to be prime minister who thinks that a large percentage of small businesses are tax scams," the Tory leader said. "I mean, seriously."
But economist Jack Mintz told The Huffington Post Canada last January that tax relief for small businesses does help make "the rich richer."
"We find that 60 per cent of the small business deduction goes to households with more than $150,000 in income," Mintz said, of research he has previously done on the subject. "That's because you tend to have a relatively high number of high-income households who own small businesses."
Trudeau wants ISIS degraded, but doesn't want Canada in the fight
Some Liberal stalwarts expressed disappointment last year when Trudeau opted not to join the U.S.-led mission against the Islamic State.
But Trudeau told Mansbridge that while our planes shouldn't be involved in the fight, Canada needs to be part of international efforts to "degrade and stop these horrible terrorists."
"Canada needs to step up much more in terms of refugees, accepting more into Canada," Trudeau said. "We've talked about 25,000."
"And how does that degrade ISIS?" Mansbridge asked.
After some back-and-forth in which Trudeau called for enhanced humanitarian efforts, the Liberal leader said Canada should be training troops on the ground to fight ISIS militants.
"That hasn't worked for 10 years," Mansbridge said.
Sending Western troops in to fight hasn't worked either, the Liberal leader said.
"So, you don't have an answer on the degrading," Mansbridge said, more of a sentence than a question.
Trudeau reiterated the Canada should work with Kurds in a "much greater way" to ensure they can fight to take back their territories.
Harper has made security a central plank of his re-election bid. Tories have even used images from ISIS propaganda videos in an online ad criticizing Trudeau's opposition to the mission.
Trudeau won't pick between Harper and Mulcair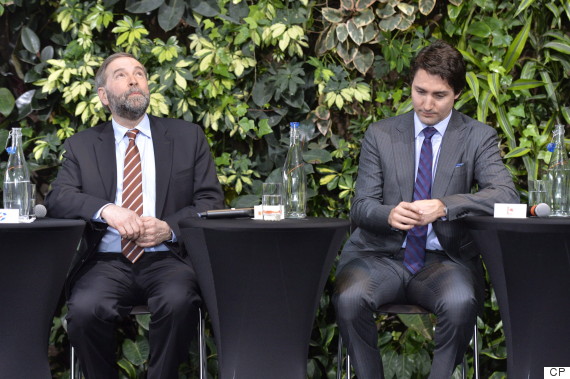 Mulcair, Trudeau attend a panel discussion at the "iVote - jeVote" event in Ottawa. Adrian Wyld/The Canadian Press
With polls suggesting a minority Parliament is on the way, Mansbridge asked Trudeau which party he would prefer ends up with the most seats, if the Liberals cannot.
Trudeau ducked the hypothetical, criticizing Harper Conservatives for "an agenda that has hurt Canadians for 10 years," and accusing Mulcair's NDP of "promising cuts."
The Liberal leader said the nice thing about elections is that Canadians choose who goes to Ottawa and then those MPs sort out how to provide good government.
"But of those two parties, is there a lesser of two evils?" Mansbridge asked. "Because you made it sound like they're equal in terms of your dislike of their positions?"
Again, Trudeau knocked both his rivals and said he was confident Canadians are going to support the Liberals this fall.
Trudeau explains why he should be prime minister
As he did with Harper, Mansbridge asked Trudeau what it is about him — personally — that he feels should make him a prime minister.
The Liberal leader said that the opportunities he's had to live in different parts of the country and meet Canadians have shown him that, under Harper, Canada has become less than what it should.
"If I have one viewpoint of distinction between me and Mr. Harper, it's in his lack of ambition for this country," he said, adding that Canada should lead on climate change and be an example to the world of an inclusive society.
Trudeau also suggested he can unite the country, while his opponents highlight "differences between English Canada and French, between East and West."
"It's time for a fresh approach," he said.
Unsatisfied, Mansbridge asked: "What is it about Justin Trudeau that makes you the person that should lead Canada?"
"If you want to find out if someone's ready for this job, ask them what they want to do with this job," Trudeau said, echoing the words he used in his closing statement at the first federal leaders debate.
"My focus is on growing this country again, the right way. Making us united, keeping us safe, giving everyone a real and fair chance to succeed," he said.
"And my work throughout my life with Canadians has prepared me to be able to offer that to people."
With files from Althia Raj
Related:

Stephen Harper's Mansbridge Interview: 7 Key Moments
Also on HuffPost
In Photos: Canada Election 2015