Atkey, who served under Prime Minister Joe Clark in 1979 and 1980, says the Progressive Conservative government then managed to help 60,000 refugees from Indochina come to Canada after the end of the Vietnam War.
At the time, the government was concerned about the risks of bringing into Canada people who could be criminals or Communist officials, Atkey said.
However, there was an effective screening process in place, and Atkey argues a similar process can be implemented by current Canadian officials to assess security risks among Syrian refugees.
"If you look at 1979, 1980, this was Vietnam — this was a Communist government that had taken over and defeated the Americans," Atkey told The Early Edition's Rick Cluff.
"There were a lot of Communist sympathizers that were rumoured to be among the refugees. There were criminals that the Communists were kind of trying to export under that program, and through the effective work of our security service and the RCMP, they were able to deal with that."
Security risk too great: Harper
The plight of millions of Syrian refugees has once again been highlighted after images of a drowned Syrian child with British Columbia ties sparked international outcry.
Canada has committed to bringing in 10,000 Syrian refugees. So far, only about 2,300 have been resettled in Canada, with most of them arriving through private sponsorships from Canadian citizens.
Conservative party leader Stephen Harper has said the government will not airlift thousands of refugees from countries such as Syria and Iraq, where extremist organizations operate, without conducting a proper security screening. He has said the security risk is too great for Canada.
Though Atkey acknowledges the security risks, he says they must be weighed against "the humanitarian benefits of doing something quite dramatic" to aid refugees in need.
In 1979, government had a plan to directly assist Indochinese refugees living in camps abroad, and to do so in a way that didn't require a ton of bureaucratic red tape, said Atkey.
He argues a similar plan can be put in place now to assist Syrian refugees if only there was a political will.
"There is willingness and enthusiasm right now among the private sector to support the refugees," he said.
"That's going to dissipate if we go on too long, and if the person is told they're going to sponsor a family, and they don't see any evidence of their time and money and effort for three years, which is the current situation."
Listen to the full interview: Former immigration minister weighs in on Canada's role in the Syrian refugee crisis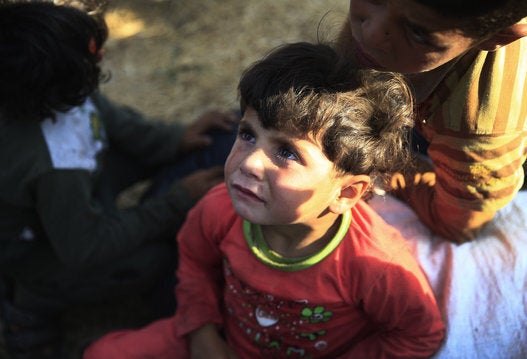 Children In Refugee Camps