A director of an Ontario riding association who wrote that Indians should "ditch the Hallowe'en costumes" and called a First Nation beauty queen a "nasty piece of work" has been removed from her position.
Sue MacDonell was asked to step down from the Bay of Quinte Conservative association on Tuesday, according to a statement on the group's website.
"The Bay of Quinte Electoral District Association became aware that one of its Board members had posted some inappropriate content on her personal social media site, in her personal capacity," it read. "Upon becoming aware of that content, the Association required and accepted her resignation effective immediately. The views expressed by the now former Board member will not be tolerated and do not reflect those of the Bay of Quinte EDA."
MacDonell's Facebook page features pictures of her puppy and pet chickens, as well as political rants denouncing refugees, Canadian aboriginal people, the Idle No More campaign, and the Black Lives Matter movement.
On Sept. 4, she posted an article about Ashley Burnham, a Cree woman from Alberta who was recently crowned Mrs. Universe. Burnham is urging aboriginal people to vote out the Conservative government in the Oct. 19 federal election.
"Ewww....what a nasty piece of work this one is," read MacDonell's Facebook post. In the comments, she also described Burnham as "a smug, entitled liberal pet."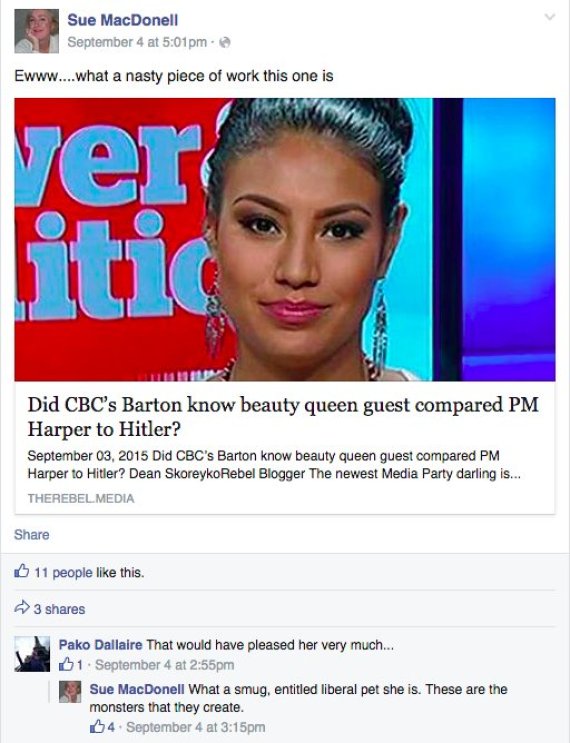 Some of Macdonell's other online tirades touch on racism.
"If Indians want to eradicate racism, then assimilate. Ditch the Halloween costumes…and adopt 20th Century dress, leave the reserves, stop acceding to demands made by chiefs who live like millionaires while their subjects live in poverty, find unemployment, stop demanding money you haven't earned, become educated and join our society," she wrote in January.
In another post last month about Muslim refugees, Macdonell wrote, "Yes, because nothing says strengthening Canada like inviting illiterate, unskilled, primitive refugees with all their children and emotional baggage and bankrupting the country to pay for their upkeep!!" according to a screengrab taken by iPolitics.
Macdonell — a former Toronto police sergeant — was going door-to-door campaigning for Conservative candidate Jodie Jenkins, reported APTN National News.
MacDonell told the network, "Sorry, not interested," and hung up when it asked her to confirm her views.
She also told iPolitics, "What I post on Facebook is called freedom of speech, okay? I can post whatever I want and I never posted anything inappropriate."
Some candidates told APTN that MacDonell should issue an apology.
Sue MacDonnell Facebook Posts