NDP Leader Tom Mulcair says his first acts as prime minister would include pulling the Canadian Forces out of Iraq and Syria, bringing in 10,000 Syrian refugees and reducing taxes for small and medium-sized businesses.
Mulcair, whose party is currently leading in the polls, sat down with CBC chief correspondent Peter Mansbridge for the third in a series of four interviews with the national party leaders.
"We will immediately stop the bombing mission and bring those troops home," Mulcair told Mansbridge in an interview for The National on Wednesday.
Mulcair said the personnel returning would include troops taking part in missions against Syria and those involved in training. Canada currently has six CF-18s, an aerial refueller, two surveillance planes and about 600 personnel involved in the air war, as well as 69 special forces training Kurdish fighters.
"So we are out of the fight with ISIS if the NDP win?" Mansbridge asked.
"Yes. Yes, no question about that," Mulcair said.
Asked whether ISIS poses a threat to Canada, Mulcair said that it's war in the region for 35 years that has posed the true threat.
"I think that the best thing for Canada to do is to start playing a positive role for peace, and that would be a top priority for me as the prime minister of Canada," Mulcair said.
Conservative Leader Stephen Harper has insisted that continued military action against ISIS is the best way to resolve the current refugee crisis. On that issue, Mulcair said he would bring 10,000 Syrian refugees to Canada before the end of the year.
Among other steps he would take soon after becoming prime minister, Mulcair said, would be a number of tax initiatives, which would have to wait until his first budget in the spring.
He said he would eliminate the CEO stock option tax loophole and reduce taxes for small and medium-sized business, dropping them one percentage point immediately and another point within a year.
Mulcair said he would keep the child-care benefit subsidy and make no changes to GST, but would scrap the Tories' income splitting plan, keeping it only for retired seniors on their pensions,
Raise corporate tax rate 'reasonably'
As well, under his government, the tax free savings account limit would drop back down to $5,000, having been raised to $10,000 in the last budget.
The corporate tax rate, currently at 15 per cent, would be raised "reasonably," Mulcair said, but will stay below what it has been as an average under the Conservatives.
"They're the only Canadians not paying their fair share right now," he said.
Abolishing the Senate is still a goal, although Mulcair admits it would be tough. However, his electoral victory would give him the mandate to go forward, he said.
Mulcair chastised Harper, saying he had talked a good game about Senate abolition, but then gave up the effort. Last year, the Supreme Court put a damper on Harper's plans for Senate reform, ruling that the federal government needs the support of seven provinces representing half the population to implement fixed terms or provincial elections for Senate candidates. The government would need unanimous provincial support to abolish the Senate altogether.
"I called him after the Supreme Court decision and I said, 'Are you going to make me do this alone?' It was a light-hearted conversation, but I was really surprised, because he immediately threw in the towel after having gotten elected on a promise to either profoundly reform the Senate or get rid of it," Mulcair said. "And he was doing neither."
Mansbridge also pressed Mulcair on the NDP plan to reform the Clarity Act, legislation that calls for a "clear majority" result if Quebec were to vote on secession. The NDP have put forward their own unity bill that would recognize a referendum victory by the Yes side, even if it were by a majority of 50 per cent plus one.
"The side that wins wins," Mulcair said. "But as in the case of Great Britain, it requires negotiation, and the quality of the mandate you have to negotiate is of course dependent on what you just got as a number.
"But I don't know of anyone in any British-inspired democracy who will tell you that in a referendum the side that wins doesn't win. And if you are going to say that, then the onus, the burden is on the people making that claim. The Liberals claim that it's more. Fine. What's the number? They won't give one."
As for this election, Mulcair agreed that the party with the most seats should automatically govern in a minority situation. But he added there are constitutional conventions that are complex and that there have been instances in the past where governments have tried to hold onto power.
Whether he would form some kind of agreement with Liberal Leader Justin Trudeau to topple a Harper government, Mulcair said, was hypothetical, but he blamed the Liberals for shutting down those talks.
"Every time I've opened the door with the current Liberals, Mr. Trudeau has personally slammed it. He's gone so far as to say that he could work with the NDP but he can't work with me.
"My priority is to get rid of Stephen Harper. Apparently Justin Trudeau's priority is to get rid of me."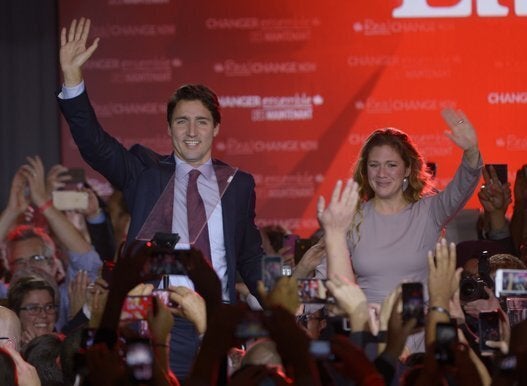 In Photos: Canada Election 2015