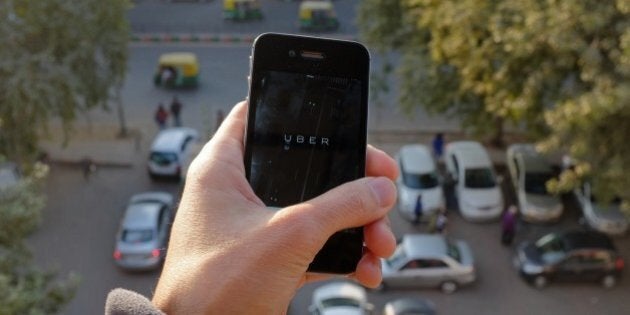 Toronto city staff are recommending that popular "technology-based" services like Uber be brought under the same regulations as the traditional taxicab industry, in a new report that taxi drivers quickly rejected.
The highly anticipated report from the city's director of municipal licensing and standards recommends that city council update the definition of a taxicab broker to include Uber, which would then fall under city regulations as a Transportation Network Company, or TNC.
The report also recommends a provision for a "private vehicle for-hire," a nod to Uber's UberX service, which connects passengers with private drivers.
Before any TNC could obtain a licence, it would need to provide proof of insurance, confirm that drivers have had a criminal background check and driving record screening, and sign an agreement that protects the city against any losses related to the private vehicles-for-hire.
The iTaxiWorkers Association, which represents Toronto taxi drivers, voiced its disappointment with the report on Wednesday and asked city council to reject its recommendations.
"The mayor said about a month ago that it will be a level playing field," iTaxiWorkers president Sajid Mughal told reporters outside city hall. "There is no level playing field."
Among the group's concerns is that the recommendations do not include a cap on fares, citing Uber's "surge pricing" policy, in which they jack up rates during high-demand times such as storms.
Another of the report's recommendations is to reduce the starting fee for a taxi ride, also known as the "drop fee," from $4.25 to $3.25, effective Nov. 1 to make taxis more competitive with Uber.
"This alone is not going to solve the problem," Mughal said.
The agency has not yet decided on what, if any, action it will take in response to the report, he added.
Uber, which began operating in the city in 2012, uses a smartphone app to connect passengers with municipally licensed taxis and limousines. Passengers pay via a credit card attached to their account and are sent a receipt via email.
In 2014, the company introduced its UberX service in Toronto, which connects passengers with unlicensed private cars-for-hire. The taxi industry says that the UberX service is siphoning away customers and affecting licensed drivers' livelihoods.
Last November, the city went to court seeking an injunction to stop Uber from operating until it obtained taxicab broker and limousine service licences, but in July, the court decided that the company's operations did not fall under the current definitions of a taxi brokerage or limo service.
The city ordered a review, the results of which are contained in this week's report. It found that while the taxi industry wants Uber banned outright, residents want the option of using both Uber and traditional taxis.
The report will go before the Licensing and Standards Committee on Sept. 16, and will then be referred to City Council on Sept. 30.