CP
NEW ANNAN, P.E.I. — The Conservatives are promising to invest $20 million more in the Canadian lobster industry if re-elected. Stephen Harper is making the announcement during his first campaign stop in Prince Edward Island. The platform promise includes a $15-million partnership with the Lobster Council of Canada to market and promote lobster abroad, plus $5 million in research, all over three years.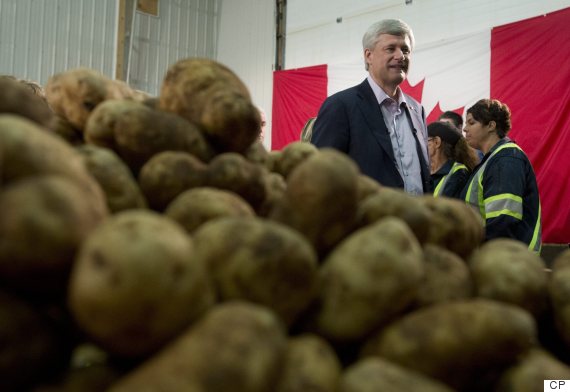 Conservative leader Stephen Harper walks past a pile of potatoes as he leaves a campaign stop in New Annan, P.E.I. on Sept. 10, 2015 (Adrian Wyld/Canadian Press)
Harper said the NDP and the Liberals are ill-equipped to promote the international trade deals that help Canadian industries. The Conservatives are facing a serious challenge in Atlantic Canada, where high rates of unemployment are fuelling dissatisfaction with the government. Harper's appointment of Mike Duffy to represent P.E.I. in 2009, despite the fact he had lived in Ottawa for decades, has also been a source of criticism in the province.
Also on HuffPost:
Candidates Dropped From Canada Election 2015