OTTAWA — Joy Davies has stepped down as the Liberal candidate in the B.C. riding of South Surrey–White Rock after telling The Huffington Post Canada it is safe for pregnant women to smoke pot and that it might make their kids smarter.
"After much consideration, I have decided to resign as the Liberal candidate for South Surrey – White Rock, effective immediately," said Davies in a Facebook post on Thursday.
"I believe in the work that the Liberal team is doing and my personal opinion and past comments should not distract from what is most important right now — ensuring all Canadians receive the real change and new leadership they deserve."
The Liberal party confirmed Davies' resignation on Thursday in a statement.
"Ms. Davies' views in no way reflect the values or policies of the Liberal Party of Canada," it said, adding that a new candidate will be nominated for the constituency.
Davies, a founding member of the Canadian Medical Cannabis Partners Society, received support from several marijuana activists, such as Jodie Emery, after HuffPost first published a story with her controversial comments.
Bravo to Joy Davies for defending her cannabis activism & advocacy as she campaigns in the federal election! http://t.co/fM9dFwrco5 #cdnpoli

— Jodie Emery (@JodieEmery) September 10, 2015
In an interview with HuffPost on Wednesday, Davies said she had gone through a lengthy vetting process and that party officials knew her views.
She stood firm on comments she had made on Facebook saying that marijuana causes no harm to children, that it decreases domestic violence, and that the Canadian Cancer Society supports big pharma.
On the phone, however, Davies went further than she had on social media. She said there is no harm at all for children to be in a home where parents smoke pot and she quoted a study that suggested mothers could smoke it during pregnancy without risk.
"The children of the mothers who used it during pregnancy had higher IQs and were better socially established than the children whose mothers didn't," she said.
Liberal Leader Justin Trudeau reinforced the party's position to reporters Thursday morning.
"The Liberal party took the position we have to control and regulate marijuana primarily for one reason: Mr. Harper's current approach is not protecting our children," he said in Vancouver.
"Not only is it easier for young people to buy a joint than it is for them to buy cigarettes or alcohol, we are actually continuing to fund criminal organizations, street gangs and gun runners with the continued black market around marijuana.
"The position of the Liberal party is clear — we need to control and regulate marijuana in order to protect our kids. The views expressed by the individual in question do not reflect the views of the Liberal party of Canada and certainly do not reflect my personal views."
'Bad judgment'
The Conservative Party seized on her comments and shared them extensively on social media, that Trudeau, by having such a candidate, is "just not ready" to govern.
The Tory candidate, former Surrey mayor Dianne Watts, said her Liberal opponent was showing "bad judgment."
"To suggest that marijuana is OK to smoke with children in the house is ridiculous," Watts told HuffPost.
Davies, who was giving Watts a difficult fight in what should otherwise be a safe Tory seat in B.C., said marijuana wasn't the focus of her campaign but she understood how voters in her Conservative-leaning riding might view her comments.
"I just want to let people realize [that this] is about dignity. Governments need to allow us our dignity as human beings," she said.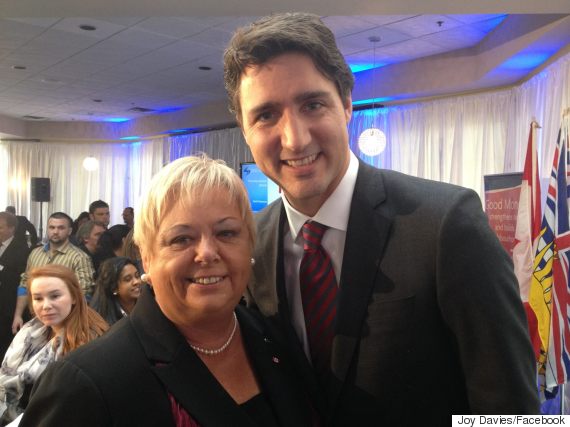 Joy Davies poses for a photo with Liberal Leader Justin Trudeau.
Davies has been using medical marijuana since 2003, after a car accident left her suffering from fibromyalgia. She said she still uses half a gram daily, which she buys from a licensed distributor.
"I have a life, and I am out of bed, and I play with my grandchildren, and my brain is functioning beautifully, and I can go dance again," she said.
She strongly believes in the curative powers of marijuana and said her two children, who were each diagnosed with cancer a few months ago, are using cannabis oil as treatment.
"It will stop the growth of new tumours, that is what the science is showing," she told HuffPost.
Several Facebook posts from 2013 and 2014 show Davies, a former councillor in Tumbler Ridge, B.C., promoting and defending pot users' rights.
She suggested that the pharmaceutical industry doesn't want to cure cancer, and that the Canadian Cancer Society is "an outlet for big pharma." She wrote "more pot=less domestic violence in married couples" and shared graphics about the healing power of cannabis for cancer patients.
She also posted in 2013: "There is NO HARM in our children being in a home where cannabis is growing."
Davies was responding to news that a 10-year-old boy visiting his dad in Oregon had been taken away by family services and placed in foster care because his mom was a pot activist in Canada.
"The harm that has happened to families is a harm caused by bad laws, by people not researched, by propaganda, by stigmatism, by families being ripped apart," she said.
"Cannabis has never hurt anybody by being around it," Davies added.
"If people want to stand on their head in a yoga pose on a railway track, or use cannabis or go watch a hockey game — whatever their choices are — that's their personal choice, and they are not hurting anyone. There is no science that shows harm in cannabis."
Also on HuffPost
Candidates Dropped From Canada Election 2015