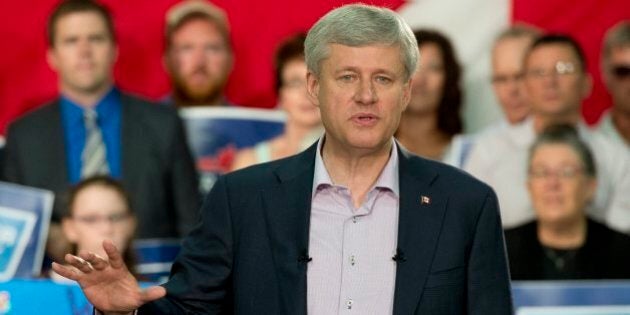 Conservative Leader Stephen Harper was on the campaign trail Thursday touting what his government is calling a return to balanced budgets, but a new forecast from National Bank Financial could put a damper on that talking point.
The federal government faces a possible $4-billion to $5-billion budget shortfall in the 2016-2017 budget year, National Bank economists predicted in a client note Thursday, because recent forecasts for economic growth have been too rosy.
That's enough of a shortfall to trigger automatic government spending cuts required under the Balanced Budget Act the Conservatives passed earlier this year, National Bank said.
They also warned that provinces' combined revenue would fall $7 billion short of what they are forecasting.
National Bank predicts nominal GDP growth will be little more than half what was built into the most recent federal budget. That "potentially leav[es] less room to fund promises made by parties committed to balancing the books," the bank's economists said.
The Parliamentary Budget Office (PBO) warned in July that the federal government could end up running a $1-billion deficit this fiscal year, before posting a $600-million surplus next year, thanks to slower-than-expected growth.
The governing Conservatives, who have made returning to balanced budgets a cornerstone of their agenda and re-election campaign, dispute the PBO's projections, and point to Department of Finance figures showing the federal government already posted a $5-billion surplus between April and June of this year.
The Conservatives and the NDP have both pledged to run balanced budgets in the coming years. The Liberals have proposed running deficits to fund infrastructure projects to stimulate the economy, which went into a "technical recession" in the first half of this year. They plan to return to balanced books by 2019.
On the campaign trail in P.E.I. Thursday, Harper played down the fact that Canada's economy shrank in the first five months of the year, highlighting instead the turnaround in the sixth month, June, the first month of growth for Canada's economy in 2015.
"In case you missed it, because I'm not sure all this stuff gets through, if you actually look at the first three month returns for this year … we are actually ahead of our plan," Harper said.
"We actually, for the first three months, ran a $5 billion surplus at the federal level."
National Bank also warned that all of Canada's provinces except British Columbia risk falling short of their budget forecasts. Oil-producing provinces are at biggest risk, the report said, because their budgets forecast oil prices that are much higher than today's market rates.
"Add in below-plan commodity prices and you're looking at a two-year, $7-billion fiscal headache for the provinces," the report said.
National Bank predicts the economy will grow by only 1.6 per cent next year, considerably slower than the Bank of Canada's prediction of 2.5 per cent growth, thanks to "an investment slump [that is] set to continue, consumption and housing having less to give, and demographic headwinds getting ever stronger….
"Simply put, finance ministers should temper their expectations for 2016 growth."
— With a file from Althia Raj