Nearly one in five renter households in Canada are spending more than half their income on rent, putting them in a "crisis of affordability," according to a new rental housing index launched Thursday.
And that crisis could lead not only to social problems, but to economic problems as well, the index's authors argue.
The Canadian Rental Housing Index, put together by six affordable-housing groups from across the country using StatsCan data, also found that four in 10 renter households are spending more than 30 per cent of income on rent. That's StatsCan's cutoff mark for affordability.
"The number one pocketbook issue for Canadians is housing affordability, and that pocketbook is getting squeezed," Tony Roy, CEO of the B.C. Non-Profit Housing Association, said in a statement.
In British Columbia, nearly a quarter (23.4 per cent) of renters pay more than half their income towards rent, the highest proportion in the country. Nova Scotia has the second-highest proportion with 20.5 per cent of renters paying more than half their income. Ontario is third, at 19.8 per cent.
The lowest-earning households — those with an income below $19,200 per year — spend 71 per cent of their income on rent, the index shows.
"When rents are so high in the private market it puts people at risk of homelessness," the index authors wrote.
The high cost of housing in Toronto and Vancouver has garnered a lot of attention in recent years, but the index's authors find the problem isn't limited to big cities.
In small cities such as Duncan, BC, 62.3 per cent of renter households are spending more than 30 per cent of their incomes on rent. Other rural communities are also experiencing a similar crisis, for example in both Stephenville, Newfoundland and Saint Calixte, Quebec more than 55 per cent of renter households are forced to spend well over the recommended allocation on housing.
"Unstable and unaffordable housing often leads to an array of socioeconomic issues including significant costs to the health, and justice systems," the index authors explain in a Q&A sheet.
Beyond the social impact, the authors see this as bad news for the economy, weakening future demand for owner-occupied homes and making it harder to develop resource industries in remote locations.
Without affordable rental housing, households cannot save for a down payment on a home, putting home ownership further out of reach for many Canadians….

Many of Canada's economic goals – resource development, [a] highly trained professional sector, skilled immigration – all depend on rental housing at various points. Unaffordable levels of rent could impact our ability to reach those goals.
The survey found that 30.4 per cent of Canadian households rent, or approximately 4.05 million households.
Check out the infographic below documenting Canada's rental housing crisis. Go to the index's interactive site for more.
Click for full size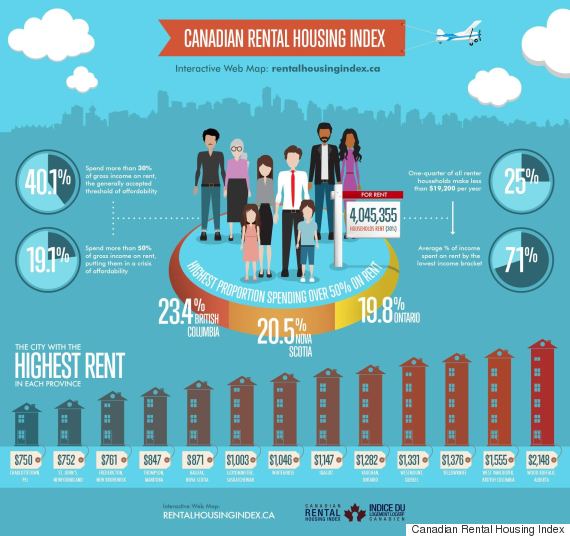 Also on HuffPost:
What $1 Million Will Buy You Across Canada