Thomas Mulcair says his decades of experience in public service make him uniquely qualified to deliver the kind of change he says Canadians desire.
From action on the Syrian refugee crisis to an "attitude" shift on the world stage, the NDP leader told CBC's Peter Mansbridge that Canadians will see movement right away if he's elected prime minister in October.
"We're going to change the way things have been done," he told Mansbridge in an interview that aired Wednesday, days after similar segments featuring Conservative Leader Stephen Harper and Liberal Leader Justin Trudeau.
With polls suggesting Mulcair remains the front-runner to replace Harper, the chat provided a glimpse of how the federal NDP will govern — a prospect that once may have seemed unlikely to almost all but but the true believers.
And Mulcair elaborated on a few areas where he would take a profoundly different approach than his main rivals.
Here are six key moments.
Mulcair says Canada should play no role whatsoever in ISIS fight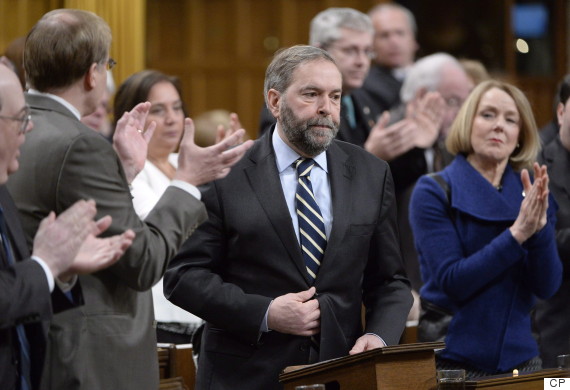 Mulcair is applauded after he spoke in the House of Commons on March 24, 2015. (Photo: Adrian Wyld/The Canadian Press)
The NDP leader told Mansbridge that he will immediately stop the bombing mission in Iraq and Syria and bring home Canadian troops currently training Kurdish Peshmerga fighters taking on the Islamic State.
Harper wants to continue the combat mission, while Trudeau has vowed to continue only Canada's training and advisory role in the region.
"So, we are out of the fight with ISIS if the NDP win?" Mansbridge asked.
"Yes, no question about that," Mulcair said.
"You're comfortable with that position?" Mansbridge asked.
"I'm profoundly in favour of that position," the NDP leader replied.
On the campaign trail, Harper has branded both Mulcair and Trudeau soft on security. The Conservative leader has also accused both leaders of a "warped" form of political correctness that won't permit them to call jihadi terrorism by its name.
"Does ISIS pose a threat to Canada and Canadians?" Mansbridge asked Mulcair.
The NDP leader said the real threat to this country is continued war in the region, saying the "horrors" of today flowed from the legacy of the Iran-Iraq war, Desert Storm, and U.S.-led effort to oust Saddam Hussein.
"I think that the best thing for Canada to do is to start playing a positive role for peace," he said.
Canada's mission is set to end next March.
Mulcair says he won't appoint senators, not even a Senate leader
While the NDP's desire to abolish Canada's beleaguered upper chamber is well known, there are still 22 vacancies in the Senate that Mulcair would need to confront if he becomes prime minister.
The NDP leader pledged that, like Harper, he won't fill those seats — even if the Supreme Court has already stated that such a practice would amount to abolition by stealth.
Mulcair told Mansbridge he won't even appoint a government leader in the Senate.
"I'm not going to be appointing any senators, no," he said.
A Vancouver lawyer is currently arguing in court that it is unconstitutional to allow those seats to go unfilled.
The NDP leader told Mansbridge that Harper "threw in the towel" on Senate reform, but Mulcair also lauded the Tory leader for aping his suggestion to let the upper chamber "simply wither on the vine" by not naming new senators.
When pressed about how he'll get bills through the Senate, Mulcair said the upper chamber is "going to have to realize" a new government has been elected — "I would hope (with) a majority" — and that legislation needs to be enacted.
When Mansbridge said it sounded as if the NDP was going to go on "good faith" with senators, Mulcair said he will have a mandate from the voting public.
The NDP leader also confirmed that he will interpret his election as PM to be a clear signal Canadians want the Senate shut down and will work with premiers to make that happen.
Trudeau expelled senators from his caucus in 2014 and has vowed to appoint an independent, non-partisan panel to select the senators.
Yes, Mulcair knows the corporate tax rate. And, yes, he wants to raise it "reasonably"
Mulcair did not stumble when asked by Mansbridge about NDP plans to raise taxes on corporations, but largely also avoided specifics.
"We'll raise it. It's currently at 15 (per cent)," he said. "We're going to raise it reasonably."
The NDP leader said the rate will stay below "what is has been as an average" under Harper, and said corporations are the "only Canadians not paying their fair share" these days.
"Canada's largest corporations have received tens of billions of tax reductions by the Conservatives. The Liberals agree with those tax reductions," he said. "We don't."
Mulcair also vowed that his first budget will be balanced, saying New Democrats have the best record for balanced budgets of any political party in Canada.
In June, Tories pounced on Mulcair after he told CBC Radio's "The Current" that Canada's corporate tax rate was "about 12, 13 (per cent). The blunder led Harper to declare in the House of Commons — as he now does in stump speeches — that Mulcair is driven by an ideology to raise taxes.
"That is typical of the NDP," Harper said in the House in June. "It does not know what the taxes are, it just knows everybody's taxes have to be higher."
.@ThomasMulcair wants to raise the corporate tax rate, but doesn't know what the current rate is! #cdnpoli pic.twitter.com/hlgqu5W31D

— Conservative Party (@CPC_HQ) June 17, 2015
Mulcair says '50 per cent plus one' is enough and, if you disagree, wants to know your number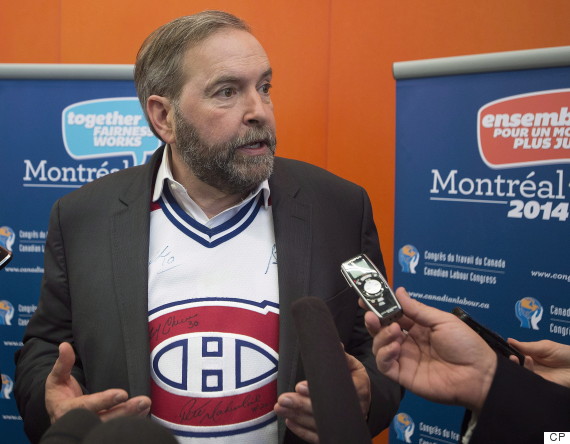 Mulcair answers questions after a speech to delegates at the Canadian Labour Congress in Montreal. (Photo: Graham Hughes/The Canadian Press)
Mansbridge also challenged Mulcair on his party's Quebec policy and opposition to the Clarity Act, a major bone of contention between New Democrats and Liberals.
New Democrats have said that, in the event of a referendum, a bare majority vote of 50 per cent plus one would be enough to trigger talks on Quebec's secession from Canada.
That position conflicts with the Clarity Act, passed by Liberals in 2000 in response to the razor-thin 1995 referendum. The law stipulates the federal government can only negotiate the terms of a province's independence if a "clear majority" voted Yes on a clear referendum question.
While the act does not define what constitutes a "clear majority," the 1998 Supreme Court reference decision that heavily influenced the legislation indicated that the threshold should be higher than a "simple majority."
Mulcair said 50 per cent plus one was the same number that applied in Pierre Trudeau's 1980 referendum, the 1995 vote, and the recent referendum in Scotland.
He also said the Clarity Act is "anything but clear" because, unlike the NDP policy, it doesn't set a threshold.
"If you can find for me in the Clarity Act any number, then you're a better man than I am," he said.
'Dangerous game'
Mulcair said his nearly 15 years in the "front trenches" of Quebec National Assembly prove he is committed to a united Canada, and accused rivals are playing a "dangerous game" with the issue.
"The only people who are raising this right now that I know of are (Bloc Leader) Gilles Duceppe and Justin Trudeau," he said.
At one point, Mansbridge suggested Mulcair was reluctant to say his number – 50.1 – out loud.
"What I'm saying is that the side that wins wins," Mulcair said. "That's the rule in in democracy."
"That's 50.1 or more, right?" Mansbridge asked.
"That's the rule in a democracy," Mulcair responded.
When challenged by Trudeau on this issue during the first leaders' debate last month, Mulcair repeatedly asked the Liberal leader: "What's your number?"
Trudeau eventually said his number was nine — as in the nine Supreme Court justices who "said one vote is not enough to break up this country."
Polls suggest New Democrats are far and away the most popular party in the crucial battleground of Quebec and that the so-called "orange wave" that resulted in 59 NDP seats in the province four years ago might be an "orange tsunami" this time.
Mulcair doesn't much care what an ex-NDP MP thinks of him
Mansbridge also brought up the "harsh words" that Bruce Hyer, now running for the Greens, had to say about Mulcair's leadership style. Hyer quit the NDP in 2012 to sit as an independent after voting in favour of scrapping the long-gun registry.
New Democrats said Hyer's exclusion from Mulcair's shadow cabinet was the real reason he left.
Hyer took to Facebook in August to say Mulcair was "ruthless" and would be a "dictatorial prime minister."
The NDP leader suggested to Mansbridge that with a caucus of more than 100 people, he wasn't concerned about one who "walked away from the party on a single issue."
"I'll let Canadians decide that," he said. "But I'm not going to respond to that in kind. I could go a lot further."
Mansbridge did not mention that, weeks before his Facebook post, Hyer tweeted that he looked forward to Mulcair's victory.
Interested to hear what @ThomasMulcair has to say to TBay today! He'll likely be Canada's next PM and I look forward to working with him.

— Bruce Hyer (@brucehyer) July 26, 2015
Mulcair explains why he should be prime minister
As he did with Harper and Trudeau, Mansbridge asked the NDP leader what it is about him that makes him believe he should be prime minister.
"The fire in my belly and some of us have more than others," Mulcair responded without hesitation.
"What gets me up every day is to try to make this a fairer society and play a positive role on the world stage and make this a better Canada."
And, in the closing moments, Mulcair again presented himself as the best agent of change for Canadians who are "tired" after 10 years of Harper.
"They want a fresh approach," he said. "And what the NDP has always represented are those values and that's the type of government that I'll lead."
With files from The Canadian Press, Althia Raj
Related:

7 Key Moments From Harper's Mansbridge Interview
Also on HuffPost