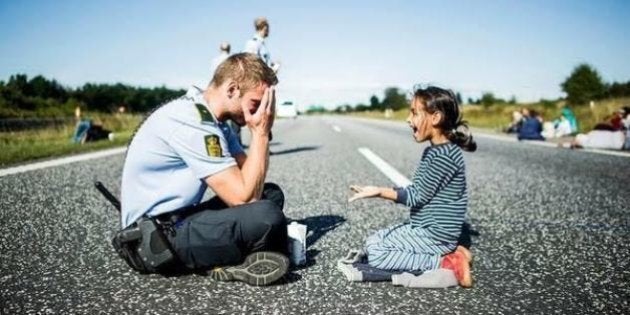 With so much horrific news about the plight of Syrian refugees, our hearts need a little healing. And these photos on Reddit of a Danish police officer playing with a young Syrian refugee will do just that.
On Thursday, Redditor "iamambience" posted the photos of a Danish police officer playing with a Syrian girl with the tongue-and-cheek title: "Danish Police Officer Has Had Enough of Syrian Girl Who Crossed the Border Illegally."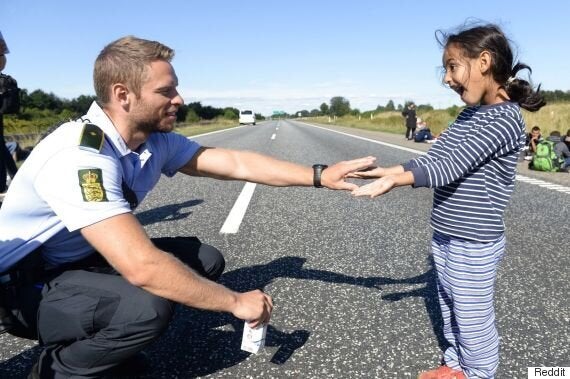 When in fact, the officer is clearly showing the little girl some kindness by playing games with her.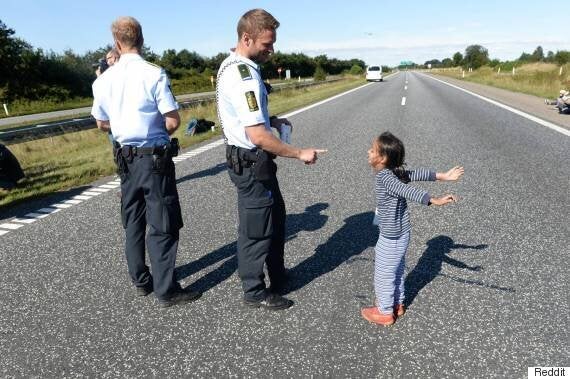 In the comments section, the Redditor explains the situation: "They want to walk to Sweden, so the highway was closed down. They have since been picked up by buses and driven to a designated area built for refugees. They will have the option to seek asylum in Denmark, or be returned to Germany."
The photos were posted the day Danish police declared they would allow Syrian refugees to travel through the country on their way to Sweden. CNN reported: "Danish Prime Minister Lars Loekke Rasmussen later said the police had his government's full support in their handling of the situation. It comes a day after Danish authorities temporarily blocked some roads and rail links in a bid to limit the number of migrants crossing into Denmark."
The kindness in the photos isn't all that caught fellow Redditors' eyes, though. Many commented on the officer's good looks. "Dear Danish Police Officer, how YOU doin'?," commented one.
"OK. I'm not sure who the guy is, but I want to marry him," said another.
One Danish newspaper, BT, managed to locate the officer, but he wants to remain anonymous.
"The picture shows that even though we have a task we must solve, we are also dealing with people who are in a difficult situation that nobody wants to be in," police assistant commissioner Knud Reinholdt told BT.
"We have to deal with children who have experienced a lot of things and who have travelled far, so if we can make life a little easier for them, as in the pictures, then it's worth it. It does not cost anything."