Ablestock.com via Getty Images
Canadians concerned about the rise in banking fees might look to a U.S. bank that just did away with such charges altogether.
Simple, an exclusively online bank based in Portland, has eliminated all the charges in its Schedule of Fees, and will derive its revenue solely from interest and interchange, said a news release issued Wednesday.
"All too often, when customers are confused about their finances, banks benefit," Simple co-founder and CEO Josh Reich said in a blog.
He supported this claim by citing a Consumer Financial Protection Bureau white paper, which showed that insufficient fund and overdraft charges made up 61 per cent of service charges earned by the banks it studied in 2011.
The study went on to say that, "if aggregate study bank fee revenue ratios could be extrapolated to all FDIC-insured institutions, this would imply the banking industry earned roughly $12.6 billion in consumer NSF and overdraft fees in 2011.
"However, there is reason to believe that such an extrapolation would understate total industry overdraft revenue."
Simple is a unique institution that has become popular for features such as "Goals," which automatically sets aside cash for anything you need to pay, such as rent, gifts or vacations.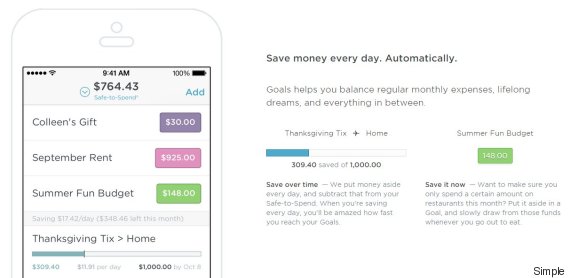 For example, when trying to figure out whether you want to go out for dinner, Simple will look ahead to those payments and then determine how much you can afford to spend.
Simple's decision to eliminate fees means that it won't charge for actions such as overdrafting, closing your account or using an ATM (though a machine belonging to another bank might charge you).
It previously charged people for losing cards or printing cashier's checks, but it also avoided overdraft fees by not allowing customers to withdraw more than they had, Forbes reported.
Simple, which began operating in 2009, arrived as part of a wave of online banks that don't charge fees the way traditional institutions do.
Like Simple, BankMobile doesn't have overdraft fees, and members aren't charged at ATMs. It also doesn't charge you fees for late payments on a line of credit, though it encourages people to make them on time and "avoid damaging your credit."
By contrast, Bank of America charges overdraft and insufficient fund fees of $35, while a replacement debit card costs $5.
Simple's move to eliminate fees is sure to sow jealousy among certain Canadian bank users.
Royal Bank, for example, introduced new charges for using debit cards on certain accounts, and brought in a fee for making payments using credit cards, in early June.
But there are ways to avoid certain fees — like turning to other institutions altogether.
While Canada's Big Five banks (Royal Bank, BMO, CIBC, TD Bank, Bank of Nova Scotia) have 0 per cent interest on chequing accounts, President's Choice and Tangerine offer .25 per cent, The Financial Post reported.
Canadians may not have the no-fee option like Simple offers, but there are lower-cost alternatives nonetheless.
Like Us On Facebook

Follow Us On Twitter

ALSO ON HUFFPOST: