Banished Veterans
A veterans advocate claims he RSVP'd to a rally for Conservative Leader Stephen Harper but was kicked out after he was identified among a crowd of supporters.
Jerry Kovacs said on Twitter he attended the rally to support an injured veteran on Friday.
"They were concerned I was going to heckle," Kovacs said in a video supplied to The Huffington Post Canada. He said he promised security who approached him that he would watch quietly and not heckle.
"They were still not happy or content with that," he said. The footage was recorded by another veterans advocate outside the event venue.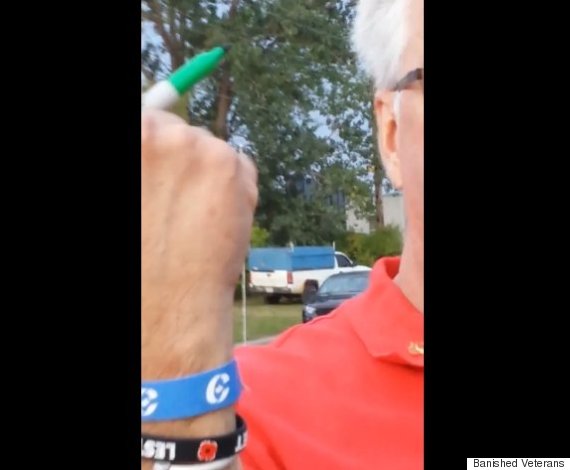 Jerry Kovacs shows the Conservative Party wristband he was given when he registered to attend the Friday rally.
Kovacs added that the security guards who guided him to the door and RCMP officers who escorted him outside acted professionally.
Harper made a campaign stop in a Greyhound maintenance garage in Ottawa to speak to Conservative supporters and to hear from veterans themselves.
"Veterans are encouraged to attend this event and bring their friends and colleagues to meet Prime Minister Harper," read an event notice. "Please ask him a question about an issue of importance to veterans and their families."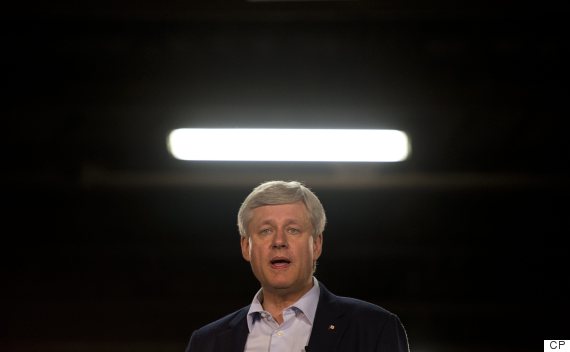 Conservative leader Stephen Harper speaks to supporters during a rally Sept. 11, 2015 in Ottawa. (Adrian Wyld/Canadian Press)
Kovacs said he registered as per the notice's instructions.
I was invited to Harper's rally.I registered, showed ID, given wristband, admitted, harassed by security & thrown out pic.twitter.com/3e9AHnPb0T

— Jerry Kovacs (@KovacsJk) September 12, 2015
@mloumcrae. They said veterans were going to cause trouble

— Jerry Kovacs (@KovacsJk) September 12, 2015
"I couldn't believe it," Kovacs said. He said he was standing at the back quietly when he was approached by security.
@ABCVeterans2015. I was given permission to attend the rally. Erin O'Tooles staff had security throw me out. The RCMP wanted to let me stay.

— Jerry Kovacs (@KovacsJk) September 12, 2015
Before the rally, an anti-Erin O'Toole group named Banished Veterans had circulated a media notice calling for a "peaceful" sit-in outside the campaign venue.
Veterans plan on making their views known to Stephen Harper in Ottawa this afternoon/evening. pic.twitter.com/GUd99Sii2V

— Jerry Kovacs (@KovacsJk) September 11, 2015
Kovacs is part of Canadian Veterans Advocacy, a group that was cut from its advisory role to the Veteran Affairs department earlier this year.
A veteran himself, Kovacs has been an outspoken critic of the Conservative government's current handling of the portfolio.
But years before O'Toole was appointed to the minister role in January, Kovacs appeared before a federal committee advocating against cuts to services.
"Sometimes I tell people that for many veterans the real war starts when they return to Canada and have to fight their government for disability benefits they are legally entitled to receive," he said to a Veteran Affairs committee in October 2012.
The Conservative Party did not respond to a request for comment from The Huffington Post Canada. This post will be updated if the party responds.
Also on HuffPost:
In Photos: Canada Election 2015