The Conservatives are pointing at a star NDP candidate and former British Columbia judge to suggest the party is soft on crime.
The Tories' latest attack is a website all about Burnaby North–Seymour candidate Carol Baird Ellan's time on the bench. As a judge, the Tories say, Baird Ellan used her discretion to give lenient sentences to criminals who had committed serious offences.
YouBeTheJudge.ca, released Saturday, highlights several of Baird Ellan's past decisions:
A one-day jail sentence, despite having 22 past convictions, for a Vancouver man, Bradley Wayne Nystrom, who exposed his genitals to minors.
No jail for a man, Carlos Luntsz Choy, who passed child pornography videotapes to an undercover cop.
A two-year prison sentence for an 86-year-old grandfather who sexually abused his two granddaughters, aged five and seven, for several years until they were in high school.
"[When Baird Ellan] was a member of the B.C. provincial court, time and time again, when serious criminals – including sex offenders – appeared before her court, she exercised her discretion to give them a lenient sentence," the website states. "Now, Ellan is helping the NDP bring their soft-on-crime approach to all of Canada."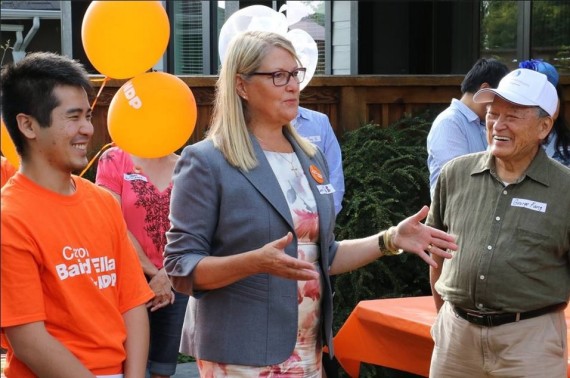 Carol Baird Ellen is the subject of a new attack website.
Baird Ellan was a provincial judge in B.C. from 1993 until 2012. She became the first woman appointed chief justice in 2000 and served a five-year term.
In the Nystrom case, Baird Ellan gave the 32-year-old man a one-day sentence, but because he had spent 51 days awaiting trial and received credit for twice that time, he spent no further time behind bars, according to a story in The Province.
The newspaper reported that Baird Ellan told the court she was erring on the side of "rehabilitation" for him. Crown prosecutor Mark Rowan told reporters he was upset but not surprised because the Criminal Code treated indecent exposure too lightly.
In the Choy case, the Vancouver Sun reported that the convicted child pornography distributor had received an 18-month conditional sentence, including 75 hours of community service. One of the videotapes he had passed on to police contained scenes of young girls engaged in sex acts with adult males, the newspaper said.
It also reported that Choy had admitted seeking images of "unusual sex" including anal sex with children who were nine years old.
In her sentencing remarks, Baird Ellan acknowledged the "highly disturbing" images were difficult to watch, but said there was no evidence that Choy had ever acted on his desires and he had progressed in recognizing that his action further victimized children, the Vancouver Sun said.
Finally, in the case of the grandfather — who masturbated his granddaughters individually after picking them up at school during lunch time — telling each she was his favourite, Baird Ellen sentenced him to two years despite his lawyer's pleading that the man was too old to spend time in prison and posed little risk to society.
The judge said she was troubled by the man's lack of empathy for his victims and the harm he had caused them, the North Shore News reported.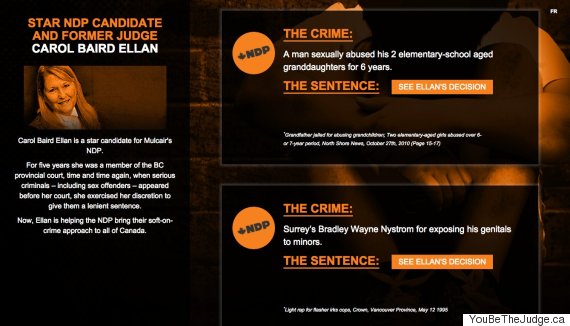 Screenshot of the Tory's attack website YouBeTheJudge.ca.
The Conservatives say they will continue to highlight Baird Ellan's decisions and focus on communities where some of the sexual predators to whom the judge gave apparently lenient sentences live.
"These are serious crimes against innocent victims. Who do Canadians want making laws to keep them safe from sex criminals: the NDP and its star candidate Ellan, or Prime Minister Harper's Conservatives?" Abbotsford incumbent candidate Ed Fast stated in a news release.
But the NDP suggested Fast was playing politics. It noted that in the House of Commons in 2006, Fast had quoted from a newspaper article in which Baird Ellan appeared to lament the fact that judges' hands were legally bound. "[E]ven repeat offenders don't often get stiff prison time in B.C.," Fast quoted Baird Ellan saying. He said the judge felt bound by precedent that prevented her from giving a tougher sentence to a woman who robbed a restaurant and had a long police record of assaults and drug trafficking.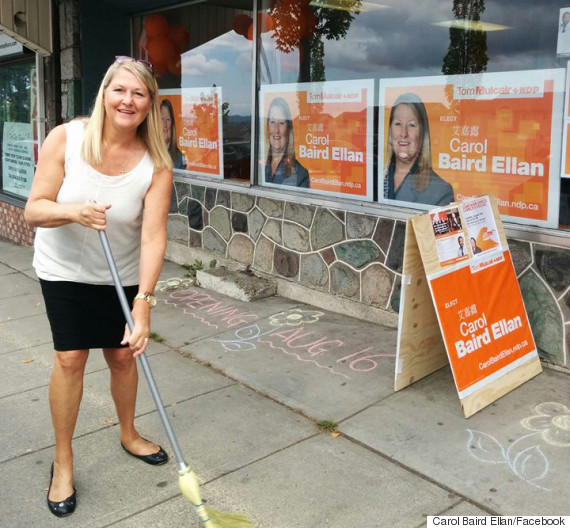 A photo from Carol Baird Ellan's Facebook page.
"In 2006, Ed Fast was using these examples to argue judge's hands are tied. Now he's using them to launch misleading partisan attacks," the NDP said in a statement.
The party said Baird Ellan was not available for an interview.
Burnaby North-Seymour is a new riding where Tory candidate Mike Little appears to have an uphill battle. Public opinion surveys suggest the NDP will win the riding easily, although the 2011 election results transposed on the new boundaries suggest it should be a Tory seat.
In a press release announcing her decision to run as an NDP candidate, the former judge said she couldn't remain on the sidelines anymore.
In an interview with the Vancouver Observer, Baird Ellan said her 20 years on the bench had convinced her that much more could be done for those suffering from addiction or mental illness, as well as for victims of violence.
"We're lacking services and support for families in crisis," she said.
Other cases went in Crown's favour
A quick review of some of her rulings by HuffPost show Baird Ellen often sided with the Crown.
In a 2006 case involving an alleged heroin and cocaine trafficker, she ruled that evidence gathered after he was arrested and intrusively searched could be used against him.
She denied a motion to strike down a 2009 case about perceived inappropriate sexual touching based on a lack of evidence, saying she thought a jury might reasonably convict.
In 2006, she sent a 24-year-old man to jail for 15 months — just as the Crown had requested — after he pleaded guilty to several charges of cocaine trafficking. Baird Ellan suggested the young man, who had lost his mother, had taken to selling drugs to maintain a lifestyle he couldn't afford. She said she would have given him a tougher sentence were it not for his "genuine expression of remorse." She gave him three years probation and prohibited him from owning a firearm for 10 years after his release.
In 2010, however, she gave a man named Van Manh Dam a conditional sentence of two years less a day after he pleaded guilty to producing ecstasy pills. Baird Ellan said Dam was essentially an employee who was paid peanuts and had no previous criminal record.
Baird Ellan is well-known in B.C. for immediately removing from the bench a judge who faced the possibility of a criminal investigation after sex abuse allegations from several young aboriginal females. Judge David Ramsay was later convicted of several counts of sexual assault and sentenced to seven years in prison. He died there.
NDP Leader Thomas Mulcair is scheduled to be in Vancouver Sunday for an announcement and a rally with local candidates.
With files from Jessica Chin
Also on HuffPost
In Photos: Canada Election 2015