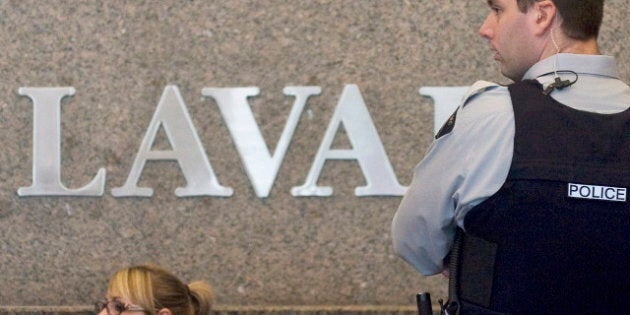 Robert Card, the CEO of scandal-plagued SNC-Lavalin, is stepping down, the company announced Monday morning.
Card had been on the job for three years and was brought in to turn around the company, which is dealing with allegations of corruption in several countries.
The news comes amid reports that the company's former vice-president for construction, Riadh Ben Aissa, has alleged that company executives for years approved of bribes and gifts meant to win contracts from Libya's Gadhafi regime.
The CBC reports Bein Aissa claims he was made a "scapegoat" by the company, who is defending himself in a number of lawsuits as the company faces criminal charges under Canada's laws against corruption in foreign countries.
"SNC is only trying to use Ben Aissa as a scapegoat by presenting him as solely responsible for acts that SNC was fully aware of, accepted and encouraged," a court statement from Aissa reads.
The Canadian Press reports:
Card will be replaced by Neil Bruce, who joined the firm a few months after Card and became chief operating officer earlier this year.

Bruce will take on the position effective Oct. 5.

No explanation for Card's departure was provided in a news release on Monday. He will remain an adviser to the board and his successor.

SNC-Lavalin chairman Lawrence Stevenson said Card transformed the company by enhancing its ethics and compliance system.

Under Card, SNC has also repositioned its operations through the sale of AltaLink electric transmission company in Alberta and the acquisition of U.K.-based Kentz, which is a firm with expertise in oil and gas.

Bruce has been leading SNC's mining, metallurgy and oil and gas business. He has more than 30 years of experience in the engineering and construction industry and was in London before moving to the SNC's headquarters in Montreal.

The position of chief operating officer will not be refilled.

Analysts say the change in leadership won't alter SNC-Lavalin's direction since it will continue to have a seasoned executive at the helm.

The change comes as the company and two of its subsidiaries face one count of fraud and one of corruption over its dealings in Libya which it plans to plead not guilty.