After an anti-feminist ad was posted at a Toronto subway station last week, residents are responding with their own posters.
The original image, which was made by A Voice For Men, made assumptions about everything from unmarried women who were 30, and women who didn't pay their own condo fees. It also ended with the question, "How is feminism working for you?"
As of Tuesday, we've now seen at least two responses, both put up at Toronto's Ossington station — where the anti-feminist ad was first seen.
Posted on Instagram by user space_marked_feminist, a new yellow poster dared to ask women the same question, "How is feminism working for you?"
"This made my day. I walked into the Delaware entrance at Ossington station and was greeted by this beautiful response to the anti-feminist "ad"/piece of garbage that was displayed a few days ago. Whoever put this here I want to thank you! And thanks for leaving a cup of pens so people can write their awesome answers to your question!," user space_marked_feminist wrote on the social media site.
Another smaller poster, this time an orange one, was also seen at the west-end subway station with several responses to the original post. Some of them included,"How is feminism working out for me? Just great, actually. Thanks to feminism, I can get an education, have a job and support myself financially and rent or own property," the image stated.
"Every day I am grateful for the freedom and opportunity I have as a result of the feminist movement. Thank you to all the women and men who support feminism."
The original ad, which was first spotted and posted on Instagram by user Andrew Cameron, has now received plenty of back-and-forth between men's rights movement supporters and Cameron, who continues to defend his stance.
"You call that a dissenting opinion? That's hate speech. The organization that posted that encourages violence against women. Go read about it and go find the men's groups that are fighting for awareness with respect and morality," he wrote to one supporter.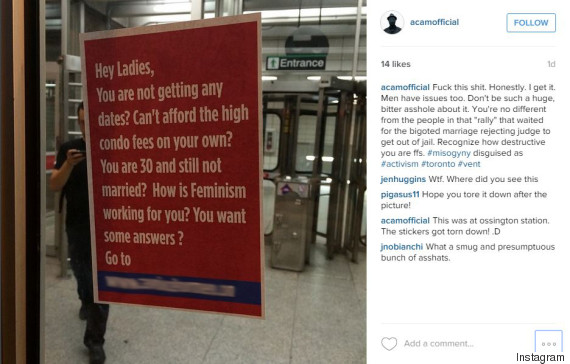 Over the weekend, we also asked our readers the same question: what has feminism done for you? Check out some of the responses below and more here:
"How is feminism working for me? Well, I'm wearing pants, taking the go train to work, and I'll be voting in the next election.

So it's working out pretty well, I'd say." — Lindsay Martin
"Feminism is working out great!! Since I learned more about it and was able to break patterns I'd learned and stand up for myself and advocate for what is important to me, I've been happier and healthier than ever! Thanks for asking, Loser Subway Ad People!" — Devon Prothero
"It's working out pretty good. I own my own home and had other options other than just marriage or a convent. Some man didn't have to settle for me, and I didn't have to settle for them. We get to be with someone who we adore." — Catherine Brandsma
"Wow. Just wow. What ridiculous statements. Those women who say they don't believe in feminism are fools in denial. If you are a woman and you earn and keep your own wages, you have benefited from feminism. If you are a woman and you vote, you have benefited from feminism. If you are a woman and created your own bank account and the bank did not require you to provide your father or husband's permission, you have benefited from feminism. It doesn't matter if you "don't believe in it". You, as a female in Western culture, as imperfect as it is, live the life you want to live because feminism and its struggle provided you with that privilege. Period." — Dominique Michel
"Feminism is working out just fine for me - the misogynists in the ointment are a real pain though." — Karyn Irwin
"Works just fine for me. By the way feminists are not anti men. They are pro women. Most feminists i know quite like the male people in their lives. So, stop using claptrap like this to brand women and make them fearful of owning up to what they want, should have and are. To me, women who do this owning up are by definition, feminists."

So get lost." — Marlene Burton
ALSO ON HUFFPOST: