$151,423. While this could be the cost of just about anything, one advocacy group says it is the estimated personal cost of being raped in the United States.
In a video campaign to end campus rape culture and raise awareness around sexual assault, non-profit equal rights organization UltraViolet released a powerful video highlighting the true cost of being raped on campus. And while the statistics come from the U.S., the emotional trauma is something anyone can relate to.
As the PSA notes, not only do rape victims have to deal with the financial cost of seeing a lawyer or taking their rapist to court, for example, but women often also have to deal with being shamed and/or bullied after the incident.
Not only this, but a campus rape can also lead to other outcomes, like switching schools, losing a part-time job, or even getting an abortion.
While there have been several examples of sexual assault, rape chants and slut shaming on Canadian campuses in the past few years, Maclean's notes the larger problem continues to be a lack of awareness around consent and how Canadian law makes it difficult for some perpetrators to be held accountable.
And as consent continues to be a topic of discussion, another recent Canadian campaign also pointed out only one in three Canadians understood the meaning of the term.
UltraViolet also launched End Campus Rape, a site (again, focused in the U.S.) which highlights schools that have been under investigation for rape or assault, and allows survivors to share their stories.
Earlier this summer, they also created this infographic: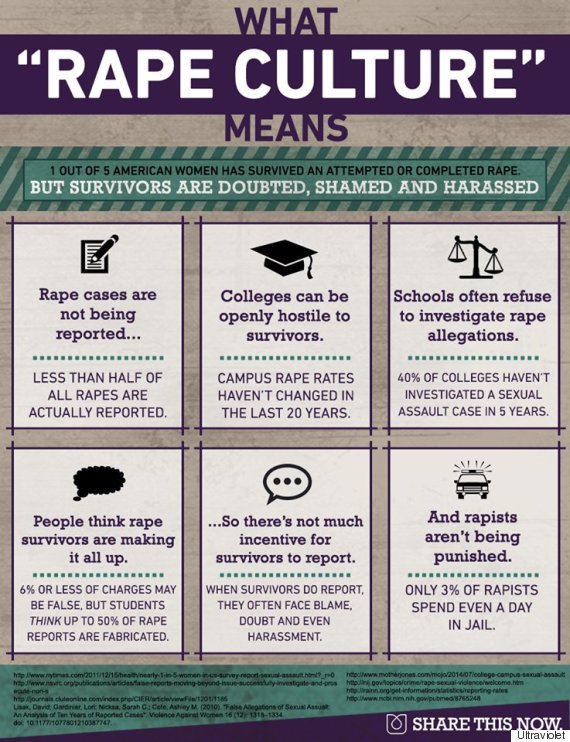 Also on HuffPost
40 Powerful Images Of Surviving Sexual Assault