It's not every day you see federal party leaders interviewed by a lifestyle magazine, but imagine how great it would be if it was a regular thing.
Chatelaine has broken the ice with a series of interviews with Liberal Leader Justin Trudeau, NDP Leader Thomas Mulcair, Green Party Leader Elizabeth May, and Conservative Leader Stephen Harper, who rarely sits down with the press. The Q&As, conducted by writers Katrina Onstad and Rachel Giese, come on the heels of the cancellation of a national women's issues debate, after Harper declined and Mulcair cancelled thereafter.
The highly anticipated event would have served an important purpose: after all, more women vote than men - 59.6 per cent of women voted compared with 57.3 per cent for men in the last election. Up For Debate, the non-partisan campaign team that organized the original event, has organized one-on-one interviews with leaders on Sept. 21. But the magazine addresses the debate over women's issues in general: why call them "women's issues" at all?
"Yes, we care about reproductive health and gender parity in leadership – but so do men. And yes, men worry about national security and the economy – but women aren't exempt from those concerns," the editors state in the feature's introduction.
The Chatelaine Q&As open up the conversation on these issues and more, and offer up some revealing responses by the leaders that at times go beyond the standard campaign line and reveal nuances to their positions. A few of the many notable moments:
Stephen Harper: Missing and Murdered Indigenous Women Have Been 'Studied To Death'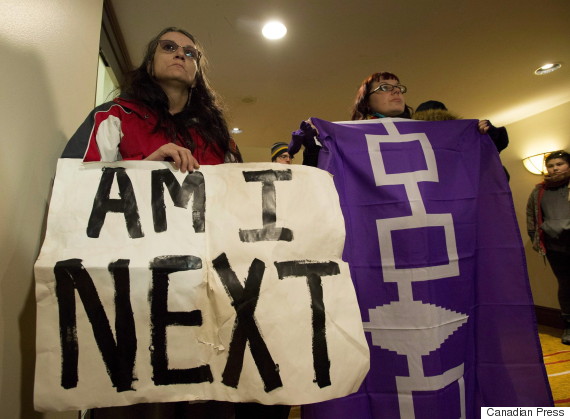 People hold signs as they protest their exclusion from the discussions at the National Roundtable on Missing and Murdered Indigenous Women and Girls in Ottawa.
Onstad questioned Harper on a previous statement he made, saying that calling a national inquiry into missing and murdered indigenous women wasn't "high on his radar." Harper denied doing so, saying "I hadn't said that at all." Onstad pointed out he had stated so in an interview with Peter Mansbridge, which Harper didn't refute.
"We have done some 40 studies and we think the issue has been studied to death," he told Chatelaine. "We haven't really seen anything that says there are actually knowledge gaps there."
Not surprisingly, Harper's "studied to death" statement has raised the ire of Twitter users for its poor choice of words.
His previous "radar" comment has been brought up by activists as a sign the Conservative government has lost touch with Native issues. Mulcair claimed bigotry is behind Ottawa's inaction at a Winnipeg rally in August and restated his promise to call for an inquiry within 100 days of taking office.
The Liberals and the Green party have also pledged to launch inquiries. In August, the Conservatives promised to improve access to social housing for First Nations reserves.
Elizabeth May Fly The Feminist Flag, But...
In a women's-focused magazine discussing "women's" issues, the Green Party leader was the only one who used the term "feminist."
"We've certainly always been a feminist party, with strong feminist principles," May told Chatelaine.
This was in response, however, to Onstad's questioning of the "anti-feminist" criticism directed at the party after it was reported a section of the Greens' platform on divorce was riddled with factual errors and implied child support was really ill-gotten spousal support. The section's poorly worded language has since been revised.
May has had to make amends for past statements related to issues of sexual assault -- as the Jian Ghomeshi story unfolded, she issued an apology for tweeting support for the former Q host.
The Green party has acknowledged barriers facing women. On their website, they have several campaigns devoted to women, including a pay equity task force, social programs, and pro-choice stances on legislation.
When asked what constitutes women's issues, May told Chatelaine: "Women care about a wide range of issues -- climate change, social justice. What the Green Party tries to do is apply gender analysis to a whole lot of questions that people might not think of as women's issues."
Thomas Mulcair Wants To Turn The Senate Into Daycare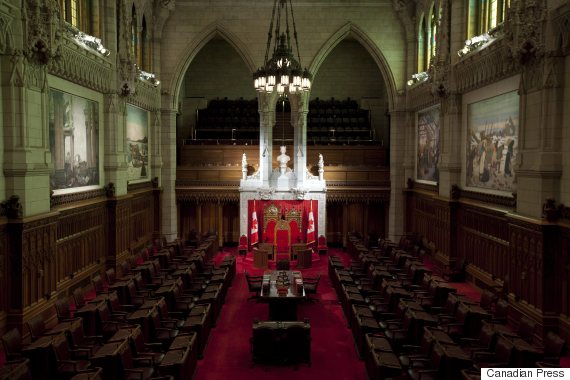 The Senate 'Red Chamber.'
The NDP leader is eyeing the Red Chamber as a home away from home for kids.
"Once we empty it of the people who inhabit it, will make the most lovely child-care centre in Canada," Mulcair said, referring to his vow to abolish the Senate.
Mulcair is advocating a $15-a-day daycare plan, a national program that would have one million spaces in eight years. He reiterated this plan to Onstad in the Chatelaine interview.
"It's not only good for families and good for women, it's good for the economy. In Quebec, for every dollar that the system cost, more than a dollar flowed back into government. I know it can be done. There's a great sentence I recall from Jack [Layton]: 'Don't let them tell you it can't be done.'"
Mulcair's own difficulties finding affordable daycare for his now-grown son is what he has said personally motivates him to push for this model.
"Parents tell me that finding a decent childcare spot is like winning the lottery," Mulcair said at a childcare conference last November.
The Green Party is in favour of a universal childcare strategy, and the Liberals, who once backed a universal strategy, now favour geared-to-income targeted subsidies for childcare. Trudeau restated to Chatelaine his promise to get rid of the Conservatives' Universal Childcare Benefit.
Trudeau's Liberals Must Support Same-Sex Marriage And Pro-Choice Policies, But Don't Necessarily Have To Agree
When asked how he balanced supporting religious freedom while also advocating for issues that would conflict with those beliefs, Trudeau quoted physician and writer Oliver Wendell Holmes: "A person's right to swing their arm stops at another person's nose."
"It's simple: if you want to stand for the Liberal Party, you have to be there to defend women's rights," Trudeau said to interviewer Rachel Giese. "That doesn't mean people can't be against abortion in their personal views, but they can't vote to limit women's rights because of those views."
The Catholic Liberal leader has long been a supporter of same-sex marriage and the pro-choice position.
Trudeau announced all new Liberal party members would have to support the pro-choice policies, in line with the party's view that the choice to abort is a Charter right.
When asked about the U.S. Supreme Court same-sex marriage decision at Toronto's Pride in June, Trudeau commended the ruling and said he would "love to see a little more leadership from our Prime Minister on this."
Harper's $160 A Month Universal Child Care Benefit Isn't Supposed To "Pay For Everything"
After Onstad brought up the fact that $160 wouldn't cover two days of daycare in Toronto, Harper used his family's mixed rearing approach as an example of additional childcare support.
"The government's approach has been to really try and assist families with all types of child-care situations. In our own family, Laureen and I, raising our kids, we used a mix. Sometimes the kids were at home, sometimes they were cared for by their grandparents, and we used also local institutional child care part-time as well, which was actually a great a experience for the kids. So we try to have programs that will suit any kind of arrangement.
"Does it pay for everything? No, of course not," Harper said. "But I don't think anybody thinks the government is going to pay for everything."
Also on HuffPost
In Photos: Canada Election 2015