Despite living over 7,000 miles away from New Delhi, Nicole Burton got to experience the true meaning of sisterhood right from her Canadian home.
As the co-founder of Toronto-based comics publishing house Ad Astra Comix, Burton, 30, says she quickly fell in love with another publisher thousands of miles away when looking for collaboration ideas.
"When looking for a community that used comics for raising awareness about social issues, I was surprised there was nothing out there already," she tells The Huffington Post Canada. "Using comics to share a diversity of experiences, specifically around women's issues, would really spark someone's interest to understand how women's right is a global issue."
But once she was introduced to New Delhi feminist publishers Zubaan Books, a long distance online friendship became a large-scale production project.
Following the brutal gang rape and murder of a young medical student in Delhi in 2012, Zubaan Books teamed up with The Goethe Institute in Germany for a week-long workshop around women's rights for Indian women between the ages of 20 and 45. There, women were encouraged to pick up notebooks and pencils and turn their frustrations into art.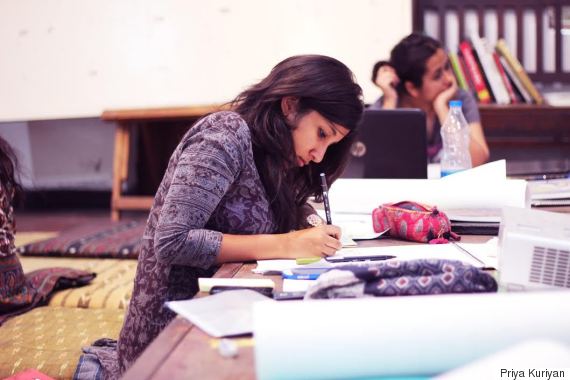 From drawings on harassment to gender to the daily experience of being an Indian woman, the workshop resulted in a 14-part comic book called Drawing the Line: Indian Women Fight Back! While it was released in India earlier this year, Burton is hoping to get a wider audience in North America.
"The book is a great piece about sisterhood," she says. "There are stories of racism and shadism and even a heartwarming story about a woman in public transit in Mumbai who has a bug in her saree."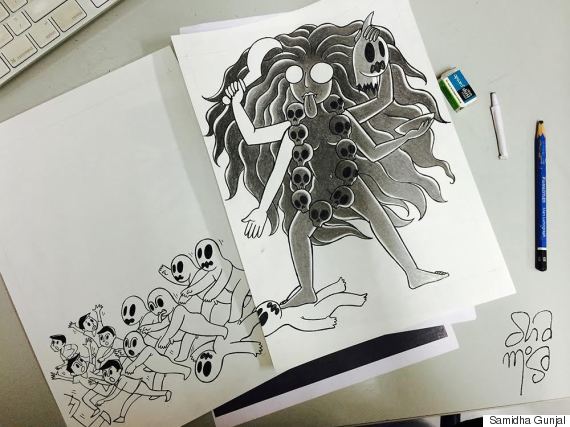 The book, which will be sold for $20 in North America, is currently part of a Kickstarter campaign aimed at collecting donations and bringing Indian illustrators and artists to the forefront. Burton adds all artists will also receives royalties through sales.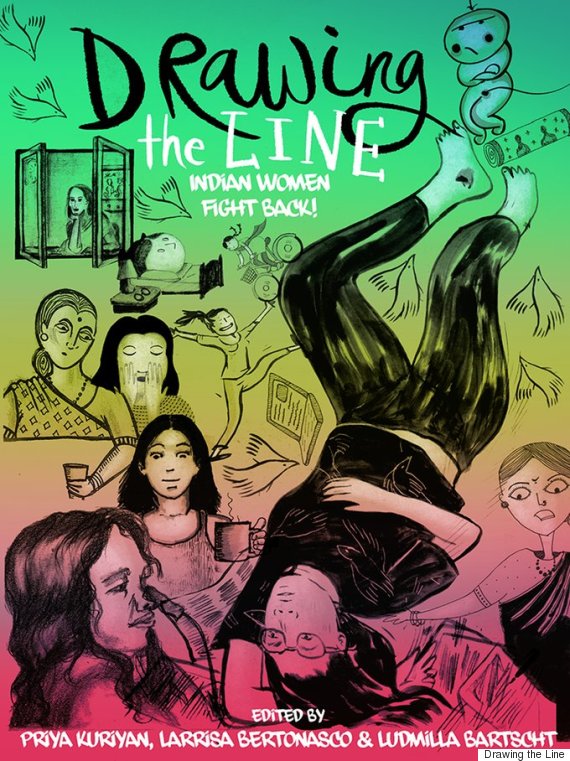 "I see a lot of interest in South Asian communities, but I would love to see this comic get into the hands of people who are outside the diaspora," Burton notes. "Women in North America need to expand their outlook of how we look at feminism and how it can be inter-sectional."
The art form of comics itself is also something quite unique, and very few predominant comic book illustrators are Indian. However, Burton says she is seeing a rising tide of more women in South Asia and the Middle East taking up illustrating and drawing. Earlier this summer, we also spoke to New York-based artist Sketchy Desi, who now turns her everyday South Asian nuisances into beautiful works of art.
Before the launch in October, Drawing The Line has shared several images with us below.