If you want to learn about loyalty, look no further than Tillie the dog.
When Tillie's best friend Phoebe fell into an old cistern, the 11-year-old Irish Setter and Spaniel mix stayed by her best friend's side until volunteers found the missing dogs.
According to ABC News, the two dogs escaped on Sept. 7 from their home in Vashon, Washington.
"Tillie would never leave even if the gate was left open, but she's best friends with Phoebe, and so when Phoebe follows her little Basset Hound nose, Tillie always goes with her to make sure she's OK," the dogs' owner, B.J. Duft, told ABC News.
Fortunately, animal rescue organization Vashon Island Pet Protectors shared a photo of the dogs on their Facebook page and received a call about a dog near the woods.
When the rescue volunteers followed up on the call, they were touched by what they found.
Cold and hungry, Tilley rested her head on the concrete wall of the cistern while Phoebe sat solemnly inside it. The best friends were okay, and thanks to the volunteers, they headed home.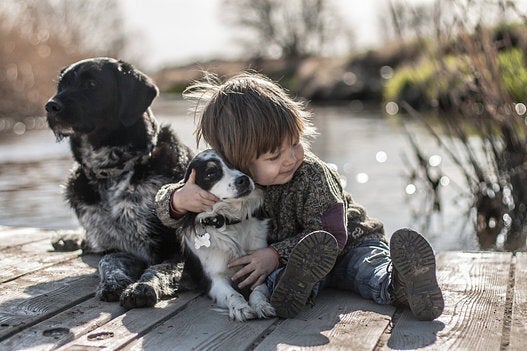 These gorgeous photos of a boy and his dogs will make your day