Aaron makes a small income as a YouTuber, which he pointed out to his mother during an argument. As a result, the mom, Heidi Johnson, gave her son an ultimatum.
Using the alias Estella Havisham, the mom posted the note to her son on Facebook and wrote: "The child is going to have a rude awakening today after the words he exchanged with me last night. Not only will he find this on the door, but his mattress stripped, and the toys and clothes that I bought confiscated."
In the note, Johnson states that if her son wants to be treated like her roommate instead of her child, then he can start paying his own bills. She then estimates a monthly cost of over $700, which includes rent, electricity, internet and food.
Since being posted on September 2, the note has gone viral with over 160,000 shares and 87,000 likes. But while mom Johnson received hundreds of positive comments, some Facebook users accused her of publically shaming her child.
In response, Johnson explained in a separate Facebook post that the note was "originally intended for friends, but I clicked public on accident." She then went on to clarify her motives behind writing the note to her son.
"I wrote him a 'bill' to make a point," she explained. "Nothing comes free. Someone is making a sacrifice somewhere down the line. When I realized he had lied to me about homework, I put time constrictions to his internet access. He, then, informed me I couldn't control him. He was a free person. How dare I think I had any right to tell him what he could or could not do. He then decided to barge out of my room stating, 'Well, I am making money now.'"
"It was never really about having him pay me back; it was to help him gain an appreciation of what things cost," she later added. "It was a lesson about gratitude and respect from the very beginning. Sometimes, you have to lose it all to realize how well you really had it."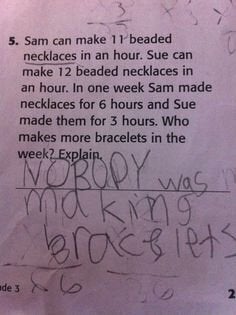 17 Kids Whose Sass Level Was Strong