Uzo Aduba took home an Emmy on Sunday night for her role as Suzanne "Crazy Eyes" Warren on Netflix's "Orange Is The New Black." And while this wasn't her first Emmy (she also won last year for the same role), you'd never be able to tell from her incredible, emotional acceptance speech.
"I really just want to say thank you a thousand times. If I could say thank you a thousand times, it would not be enough," she began.
The 34-year-old actress then went on to thank show creator Jenji Kohan, her cast members, agent, managers and everyone else involved in the production. And as she did so, she quickly became overwhelmed with emotion.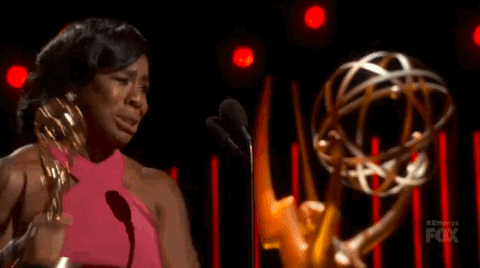 Touching our hearts, she said: "I am thankful for standing beside a group of artists who are so brilliant. I want to say thank you to our team, my team that I work with… you guys are incredible and I love you mostly because you let me be me."
To wrap up, Aduba then thanked her family, specifically mentioning her sister Chioma, who accompanied her to the Emmys.
"I really just want to say thank you for my family, who have stood beside me my entire life," she said, fighting back tears. "My sister Chi Chi, you are my very best friend and I am humbled to call myself your sister. I love you so much."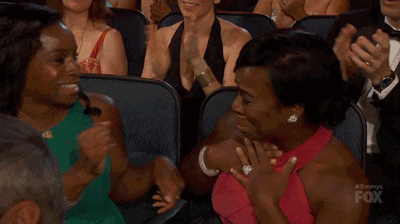 Aduba's speech was so moving and inspiring that it helped us forget that awkward moment when presenter Jamie Lee Curtis joked about not being able to pronounce the actress' name.
In response to the incident, many fans took to Twitter to share their disappointment.
Hey, Jamie Lee Curtis: If you can say "Activa," you can certainly say "Uzo Aduba." #emmys

— Iris Blasi (@IrisBlasi) September 21, 2015
Jamie Lee Curtis making a joke about needing to learn Uzo Aduba's name was so unprofessional. Do your job.

— Saeed Jones (@theferocity) September 21, 2015
@theferocity Seriously. I'm so over presenters who flip out on names that are different. IT'S 2015.

— aimeenezhukumatathil (@aimeenez) September 21, 2015
Although the name mishap was completely unnecessary, it didn't bring Aduba down, and that's really all that matters.
Also on HuffPost
Emmys 2015 Red Carpet Photos