One U.K.-based charity is leaning on some creativity to help curb how the most-littered item in the world ends up on streets.
Hubbub, known for its catchy environment-themed awareness campaigns, has grabbed international attention after asking smokers in central London to "vote with [their] butts" — cigarette butts, that is.
Using a changing set of divisive sports-related questions, the group hopes its bright, yellow ashtray outside one of the city's tube stations will "jolt people out of their normal littering routine."
"Who is the best football player in the world?"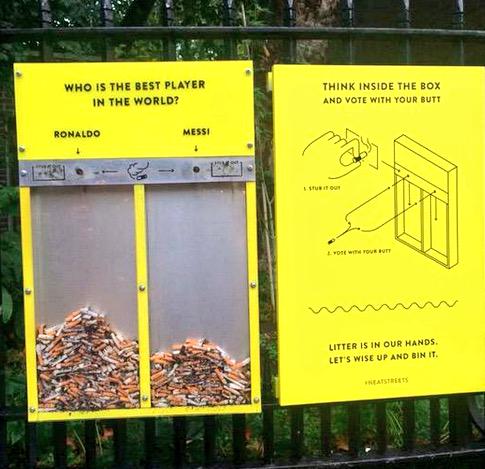 Chelsea or Arsenal?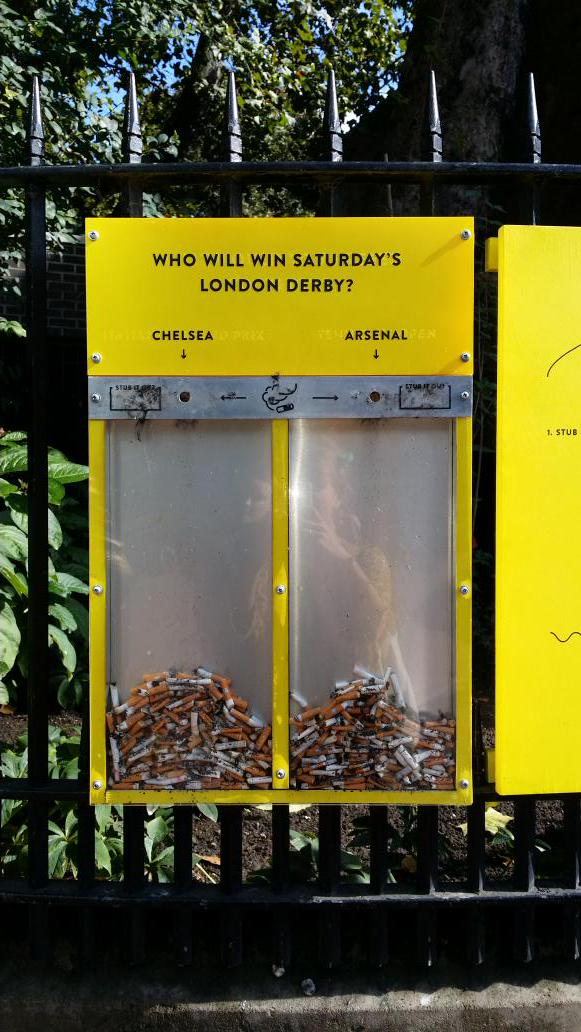 Will England win the Rugby World Cup?
Could England win the World Cup? We're staying positive! Our new #cigarettevotingbin is down on #villiersstreet. No one likes to see butts out on the street, vote with your butt & keep them off the street! #litter #design

Posted by Hubbub on Friday, September 11, 2015
"We've already had requests from around the world for the bin with many countries wondering how they can change the questions to reflect their country's culture and interests," the company wrote in a blog post.
Designed in collaboration with Commonworks, the voting bin campaign is the latest installment in a "Neat Streets" campaign launched earlier this year.
The charity says its goal is to increase awareness and reduce the number of cigarette butts that end up on sidewalks and roads.
In other parts of the city, the group turned its attention to another environmental offender: chewing gum.
According to Hubbub, it costs the city £1.50 to remove one 3-pence piece of gum.
So to send that message to Londoners, campaign organizers got crafty with a playful reimagination of childhood paint-by-numbers kits, asking pedestrians to stick their gum on "Peppermint Pointillist" panels to reveal some alarming stats about littering.
All photos courtesy of Hubbub
Clever, no?
The group says overall effectiveness and impact of its litter-curbing campaign will be evaluated in December.
Also on HuffPost:
Surprising Facts About Trash