The family whose Pemberton-area house was buried in a mudslide Sunday say they have lost everything, and are now hoping for help from the province's disaster relief fund.
Their insurance company has denied all claims, calling the disaster an act of God.
"I haven't slept very much," said an emotional Rob Elliott. "It just comes in waves, the shock of everything."
Elliott says the mud and rock that came down the north side of his property in Birken buried his two-storey house, a guest cabin, three out-buildings, a sizable greenhouse and a large garden which included hundreds of fruit trees.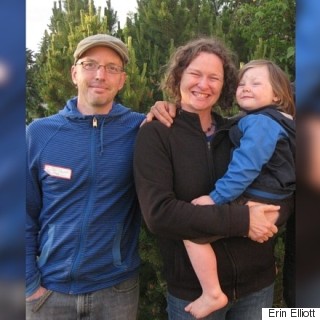 Twenty-five ducks and 15 chickens were also buried in the slide.
Elliott did not witness the mudslide because he had left to try and buy an emergency generator after power lines in the area came down. His wife and three-year-old son had moved to a neighbour's house. 
"The creek had jumped the road above us and was going in the direction it wanted to historically, which was away from our house," said Elliott in a phone interview. 
"At some point it got another blockage above and completely jumped in the other direction and a huge amount of material came down on our place. When I came back, everything was destroyed."
Elliott says most of his three-hectare property is under five metres of rock and mud, and because of the devastation it's unlikely he'll be able to rebuild on the site. 
"We had a lot of insurance," said Elliott, "but (our insurance company) is saying we're getting absolutely zero from them, no compensation."
Elliott is now waiting to hear whether he'll get the okay to apply for disaster relief funding from the province.
He and his family are currently staying with friends in Pemberton. A GoFundMe campaign has been started in their name.
Also on HuffPost
B.C. Highway 99 Mudslides, August 2014