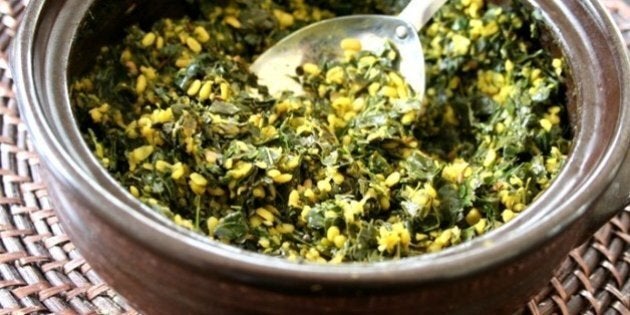 You might or might not be familiar with moringa trees (or the drumstick tree), in fact, you might be consuming it in popular South Asian dishes and not even know it.
The moringa tree grows in dry and tropical climates, NPR reports, and from it comes edible and nutritional superfoods like moringa (or drumstick) leaves and seed pods called drumsticks. Yes, these words are interchangeable, but here's what you need to know: moringa may be a recent superfood for some North Americans, but people around the world have been consuming it for decades.
But the best way to enjoy any superfood is by eating it. And if you're already used to eating other healthy greens, like kale and spinach, it's time to add moringa to your life. For the most part, you can buy dried morgina leaves or full fresh drumstick pods at local South Asian grocery stores.
In the slideshow below, we round up some nutritious and tasty moringa recipes that are made with both drumsticks and their leaves. From sambar (a South Asian stew) to curries to a breakfast smoothie, here are some easy ways to add more moringa to your diet.
How do you eat moringa, you know, before it was cool? Let us know in the comments below: