Americans don't just want to see a wall built between the U.S. and Mexico.
They also, apparently, want the Canadian border to look something like this.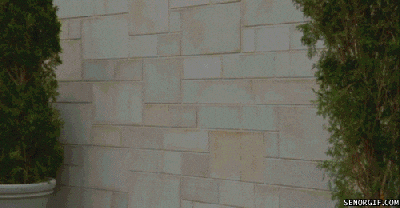 A recent survey conducted by Bloomberg Politics found that 41 per cent of respondents agreed with the statement that, "There should be a brick-and-mortar wall between the U.S. and Mexico."
Forty-one per cent also agreed with the statement, "If a wall is good for the Mexico border, it is good for the Canada border as well."
The survey spoke with 1,001 adults in the United States, who were aged 18 years or older. There was a 3.1 per cent margin of error.
It came amid a U.S. Republican nomination campaign that has seen immigration emerge as a primary issue.
Front-running candidate Donald Trump is pushing for a wall to be built along America's border with Mexico.
But he also told CBC News that he wouldn't want to build one at the Canadian border.
Last month, Wisconsin Gov. Scott Walker, who has since dropped out of the race, said the idea of a border wall with Canada is a "legitimate issue for us to look at."
Walker later backed down, as campaign spokesperson AshLee Strong said that he "wasn't advocating for a wall along our northern border," The Wall Street Journal reported.
But the idea has nevertheless gained traction among Americans like ex-truck driver Jake Crosan. He told Bloomberg News that, "If you cut off one, they're going to come in the other way.
"It's desolate up there in some places on the Canadian border and they've gotta do something up there to stop them from coming in."
The survey results were also roundly mocked on social media.
Walker will put the #Canadawall right past that 2nd peak. pic.twitter.com/CUPY6Hzdkd

— ray reynolds (@cr8f) September 24, 2015
Canada is like being north of the wall

— andrew (@AndrewCTE) September 24, 2015
Apparently #Murica wants a wall between them and us (#Canada). It's cool.We'll keep our distance. We're happy here. http://t.co/iOHL5wPh5E

— KoburaKommander (@KoburaKommander) September 24, 2015
Canada should be proactive. We should build a wall in case Trump gets elected, so we don't get all the illegals trying to leave the US

— JontheGeekGuy (@JontheGeekGuy) September 24, 2015
A number of users pointed out the fact that a border wall with Canada was already brought up on the latest episode of "South Park."
The episode sees teacher Mr. Garrison pushing for a wall to be built on the Canadian border in an effort to keep out illegal immigrants.
But Canada beats him to the punch, building its own wall after a Donald Trump-like politician is elected president (yes, president).
Oh this? This is a wall. Sorry, buddy, nobody allowed in. #SouthPark pic.twitter.com/8nfr65q8y7

— South Park (@SouthPark) September 24, 2015
Donald Trump is a joke we let go on for too long, says 'South Park' http://t.co/NE7QK6rMeN pic.twitter.com/xcC1ePsYWu

— Mashable (@mashable) September 24, 2015
Matt Damon also joked about the idea of a wall, when he mocked Trump by saying the U.S. should build one to keep out "white walkers" from Canada.
Like Us On Facebook

Follow Us On Twitter

Also on HuffPost
18 Real Things Donald Trump Has Said About Women