Meet Blade, New York City's "Uber of helicopters." They're offering to get New Yorkers around Pope traffic in Manhattan for $95.
Blade offers users the ability to charter private or crowd-sourced helicopter and small aircraft flights between NYC and nearby destinations, like the Hamptons.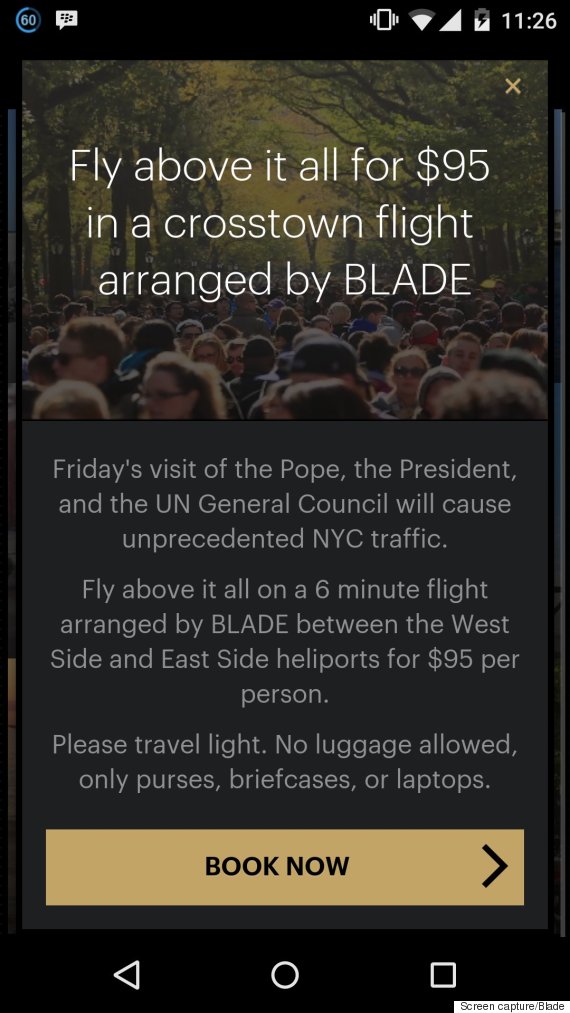 To get around street closures and Pontiff-related rush hour traffic, Blade is offering to ferry people between two of its bases, located on E. 34th Street and W. 30th Street.
That's a three-mile (4.82 km) trip using conventional ground-based transportation.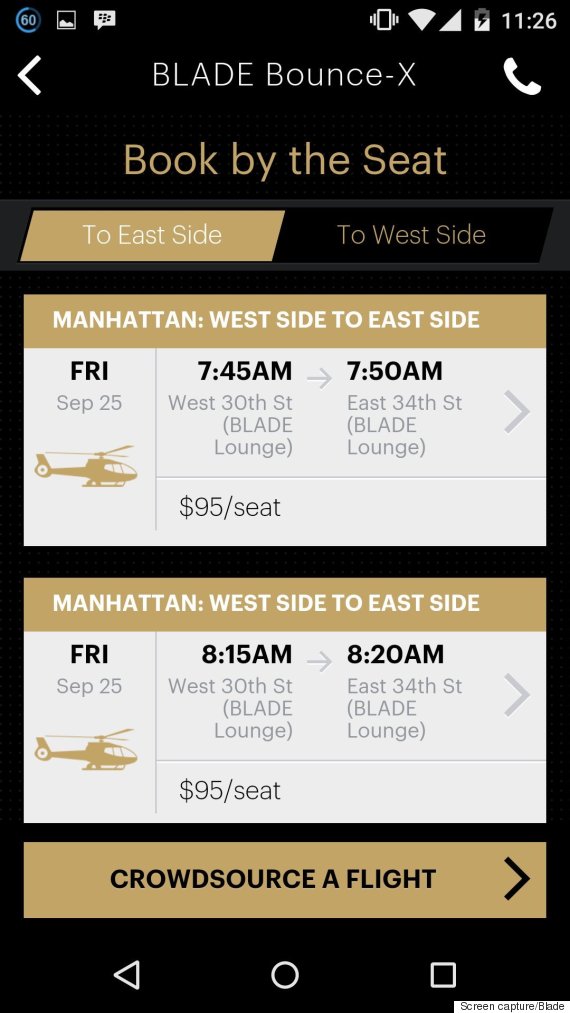 Pope Francis' visit is expected to bring record-breaking crowds and cause massive gridlock, NBC says.
As a result, Blade has seen a surge in interest (and bookings) for people eager to avoid the traffic trifecta caused by the concurrent visits of the Pope, President Obama and U.N. General Assembly delegates.
Check out Blade's full email to users:
Due to popular demand by our users, on Friday, September 25th, BLADE will be offering flights between the West Side and the East Side of Manhattan during morning and evening rush hour time periods—when traffic will be most impacted by the concurrent visits of the Pope, POTUS, and UN delegates.

Flights will depart from and arrive at the BLADE Lounge at the West Side Heliport (30th Street, West Side Highway) and the BLADE Lounge at the East Side Heliport (East 34th Street, FDR Drive) for the morning rush hour period between the hours of 7:45 AM and 10:00 AM and then again for the evening rush hour period between 5:00PM and 7:00PM.

Flights will be operated by Liberty Helicopters and Zip Aviation and trip duration will be between 5 and 8 minutes. The flights are priced at $95 per seat and can be purchased on the BLADE app.

Given the sensitivity regarding transportation in the New York area during the next two days, the following restrictions will apply:

TSA will be on site at each heliport for passenger screening prior to boarding

No baggage will be allowed beyond purses and briefcases

No alcohol will be permitted in the BLADE Lounges or in flight

Since both heliports are located on the waterfront, all flights will be routed around the southern tip of Manhattan. No flights will be permitted to fly over the city.

We look forward to seeing you Friday and helping you beat the impending gridlock.

TEAM BLADE
Also on HuffPost
Pope Francis Quotes On The Environment