We know that some parts of Canada are healthier than others.
But we rarely see it mapped out as clearly as The 10 and 3 has done with its latest infographic.
The data-visualization website drew up a map using information from 101 health regions in Statistics Canada's 2013 Health Profile.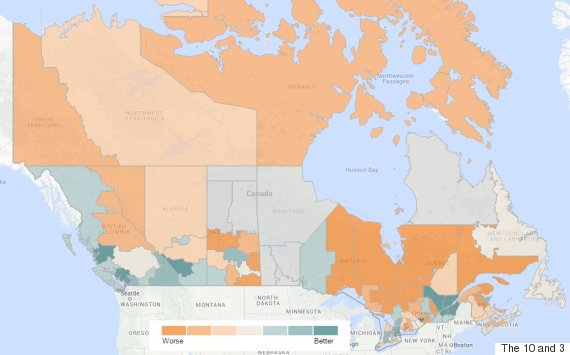 For an interactive version of the map, click here
Data that was used to design the map included indicators such as asthma, diabetes and smoking rates; a community's access to medical resources; obesity rates; and mental health levels.
Cancer rates were also taken into account, but they came from the 2011/2012 Canadian Community Health Survey.
Regions were then assigned health scores by ranking them according to each of these indicators, and taking average rankings for each of the data points.
Coming in last (101st) in its rankings was Saskatchewan's Prince Albert Parkland Region (PAPHR). It had high rates of overweight residents (42 per cent), smoking (23.5 per cent), and a relatively low 76.2 per cent had regular access to a doctor.
The 10 and 3 said the PAPHR faced regional challenges, such as a high poverty rate.
Indeed, 19.1 per cent of people were living on a low income in the City of Prince Albert in 2010 — that was more than the provincial rate of 14 per cent at the time, according to Statistics Canada.
A statement provided to The 10 and 3 by the PAPHR said it struggles with issues such as "income and income insecurity, food insecurity, social exclusion [and] people living in poverty," which also affect residents' health.
But the region is making some progress in terms of helping patients access medical resources.
The PAPHR's 2014-2015 Annual Report showed the number of doctors working as part of "primary health care teams" increasing five per cent from 2013-14.
It has also set itself a number of goals, such as a 30 per cent decrease in hospital visits due to conditions such as asthma, diabetes and heart disease by March 2017, and increasing addiction and mental health services by March 2019.
Meanwhile, Ontario's York Region emerged as Canada's healthiest area. It showed an asthma rate of 6.5 per cent and a diabetes rate of 4.5 per cent.
An estimated 31.4 per cent of its people are considered overweight, but 94.3 per cent are believed to have good access to a doctor.
While the York Region sits atop the rankings, The 10 and 3 pointed out that British Columbia has four areas within the top 10: the North Shore/Coast Garibaldi health service delivery region (second place), the City of Richmond (third place), the Fraser North region (eighth place) and the City of Vancouver (10th).
The website said that urban density helps to facilitate physical activity such as walking and cycling, which can help lead to lower diabetes rates, and fewer people facing cardiovascular issues.
Check out our slideshow of Canada's most and least healthy places, as mapped out by The 10 and 3:
Photo gallery

Canada's Most and Least Healthy Places, As Mapped By The 10 and 3

See Gallery