An incumbent NDP candidate says the Sudbury man facing charges for his role in a provincial byelection is Justin Trudeau's "bagman."
On Thursday, Ontario Provincial Police charged Gerry Lougheed, a veteran Ontario Liberal fundraiser in northern Ontario's largest city, with one count of counselling an offence not committed and one count of unlawfully influencing or negotiating appointments.
The OPP launched an investigation after former Ontario Liberal candidate Andrew Olivier said he was offered an appointment to step aside in last February's byelection for Premier Kathleen Wynne's preferred candidate, former NDP MP Glenn Thibeault.
And right about the time Wynne faced calls to resign in question period, federal New Democrats issued a media release highlighting Lougheed's "deep connections" to Trudeau.
"I wish I could say I'm surprised by the news that Mr. Trudeau's bagman has been charged in the election bribery scandal, but, it's just another example of a culture of Liberal and Conservative entitlement and cronyism that has gone on for far too long," Charlie Angus, running again in the riding of Timmins-James Bay, said in the release.
"Canadians are fed up, they're tired of Liberal corruption being replaced by Conservative corruption – they're ready for change."
The release also flagged a Northern Life story which quoted Lougheed as saying he tried to recruit Thibeault to join the federal Liberals.
Angus took to Twitter to compare Lougheed's charges to the Mike Duffy scandal.
Lougheed issued a release saying he "will be vigorously defending these charges in the courts."
Liberal spokesman Dan Lauzon told HuffPost in an email that "the NDP knows the matter before the courts in Sudbury has nothing to do with Justin Trudeau or the Liberal Party of Canada."
Thibeault's defection hurt former colleagues
Polls suggested the federal NDP was stuck in third place when Thibeault bolted for provincial politics last December. The defection did not sit well with his former colleagues, who quickly branded him a "turncoat" who just wanted power.
In a January Northern Life column addressing his decision, Thibeault wrote that while it was Jack Layton's "message of hope" that first motivated him to run federally in 2008, things weren't the same since the former NDP leader's death.
"With Jack gone, the NDP changed," he wrote. "There came a time when I could no longer reconcile my goals and values for this great city, with those of the NDP."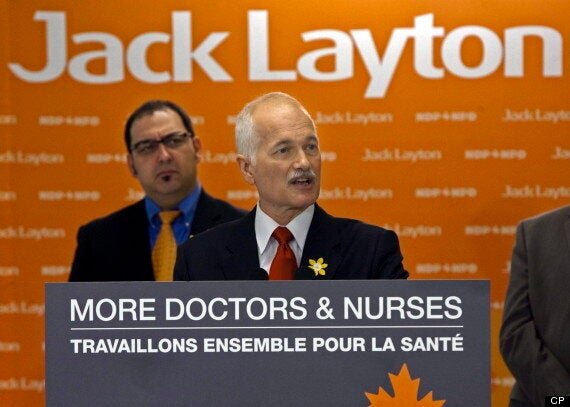 Glenn Thibeault stands behind Jack Layton at a press conference in April 2011. (Photo: Andrew Vaughan/The Canadian Press)
In a statement emailed to The Huffington Post Canada at the time, Thibeault blamed top-down control in the federal party for his exit.
"It's the same as any other job, in that if you aren't happy anymore, you have to start asking yourself some serious questions and looking for other opportunities," he said.
Angus told HuffPost Thibeault's column was a "pretty sad" attempt to change the channel from Olivier's release of two audio recordings he said proved his allegations.
"I think it's really cheap of Glenn to try and hide behind Jack Layton," Angus said. "For Glenn to invoke Jack Layton to explain him being involved in such a cynical manipulation, I think, is a misuse of who Jack Layton was and what Jack Layton stood for."
Angus said Layton "hated a backroom deal."
With files from The Canadian Press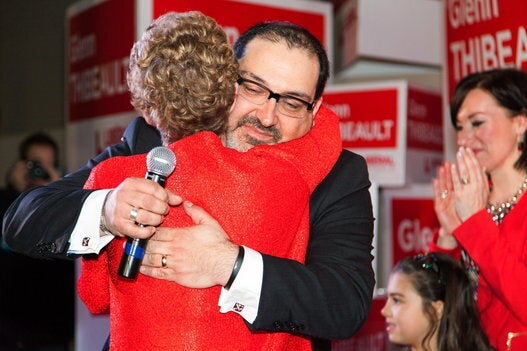 Sudbury Byelection Scandal: Key Dates