Father-daughter bonding time has never been so cute!
In a video posted to Reddit, a little girl named Avery is seen decked out in rain boots and a lifejacket as she reels in what appears to be her first catch ever. The caption reads: "Super Dad cheers on daughter as she fishes up a huge bass with her Barbie fishing pole."
The two-minute clip shows Avery reeling in the five-pound bass all by herself, with her dad encouraging her every step of the way. As she reels, the excitement between her and her father can barely be contained! By the time they pull the fish out of the water, the two are laughing hysterically.
"Yes, I got one! Finally!" Avery exclaims in the end.
Watch the video above to watch Avery's adorable struggle.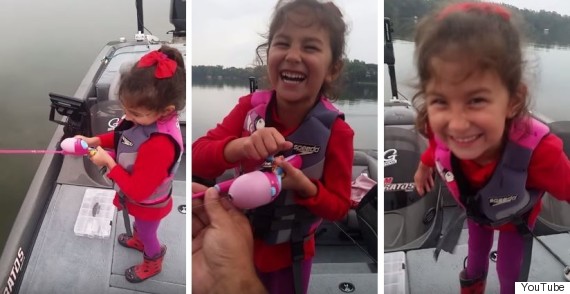 In less than a day, the Reddit post has received over 2,800 comments from users who couldn't stop smiling thanks to the duo's infectious excitement. "The fact that the little girl was just as excited as the dad made it so much better," one wrote.
Another said: "They will probably talk about this memory for the rest of their lives. How cute."
But one user pointed out that what really made this video amazing. "Loved how he let her do it and make that her accomplishment," the user wrote.
We couldn't agree more!
Also on HuffPost