It was unlike any debate in this election so far.
Five party leaders — Conservative Leader Stephen Harper, NDP Leader Thomas Mulcair, Liberal Leader Justin Trudeau, Green party Leader Elizabeth May and Bloc Québécois Leader Gilles Duceppe — were asked about topics ranging from health care and capping interest rates on credit cards to the wearing of the niqab during citizenship ceremonies and whether Canada is doing enough to help refugees.
The questions in Thursday's French language debate touched upon topics not yet discussed in this election campaign. It was also the first time the leaders went head-to-head in French, and where the Bloc leader took the stage to battle against his prime target — Mulcair.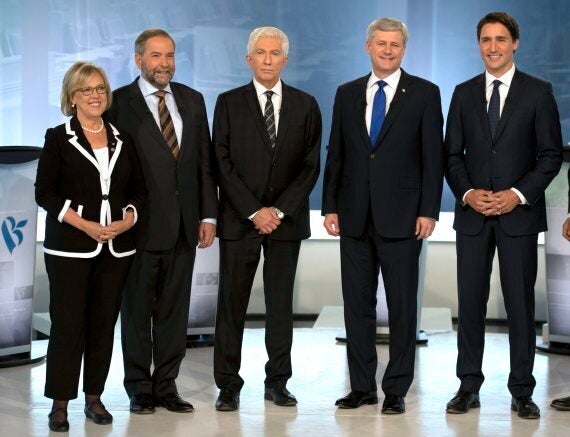 The five leaders pose for a photo in Montreal Thursday. (Photo: Canadian Press)
Here are three moments that stood out:
The party leaders were asked whether they thought government services should be received and delivered without a veil. Only Duceppe said he thought women who wear the niqab should be forced to show their faces in order to vote. He said his party's first bill in the Commons would be to ensure that women need to unveil to receive government services.
Duceppe called it a fundamental question of the equality of the sexes.
"The National Assembly in Quebec is unanimous. The Liberals; the Péquistes; the CAQists; Québec Solidaire; the Montreal mayor, Mr. Coderre; the mayor of Quebec, Mr. Labeaume; the mayor of Saguenay. Mr. Tremblay; 90 per cent of the population of Quebec," Duceppe said. "We are not dividing, we are respecting this fundamental belief Quebecers have: to say men and women must be equal in society."
Trudeau accused Harper and Duceppe of playing politics of fear and division. The Liberal leader said if a man can't tell a woman how she should dress, the government shouldn't dictate how a woman should not dress.
"The state is there to defend the rights of minorities, defend the rights of women," he said.
Mulcair said Harper was trying to hide his terrible job record behind the niqab. The NDP leader said he is in favour of the current rules, which force women to unveil before taking the oath of citizenship.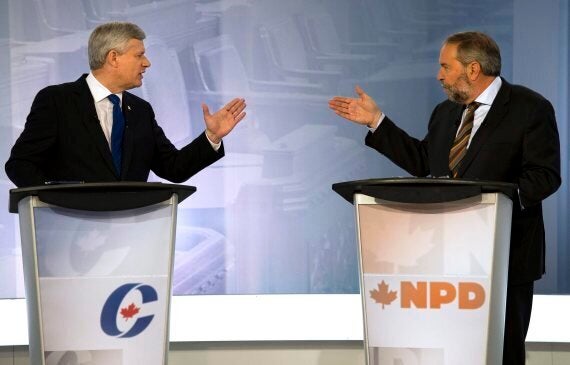 Conservative Leader Stephen Harper and NDP Leader Thomas Mulcair debate each other during an exchange on Thursday night. (Photo: Canadian Press)
Harper said banning the niqab during the citizenship ceremony is about not hiding your identity. "I will never tell my young daughter that a woman should have to cover her face because she's a woman. That is not my Canada," Harper said. Mulcair shot back: "Attack the oppressor. Don't attack the women...if you think there is oppression in this. Have the courage to do this. It's not by preventing these women of their citizenship and their rights, that you are going to be successful in helping them." Mulcair and Harper then argued incomprehensibly.
May probably had the best line of the night on the issue: "This is a false debate…. What is the impact of the niqab on the economy? What is the impact of the niqab on climate change? What is the impact of the niqab for those on welfare?
"This is a false debate that is only there to distract and avoid debate over the real issues facing Canada."
The Bloc leader said the NDP was trying convince Quebecers that his party isn't totally in favour of the Energy East pipeline.
Then Duceppe dug up quotes from "Thomas Mulcair" from 2010 in which he said in French that the development of the oilsands would gravely affect the health of humans and important ecosystems. In 2012, Duceppe went on, "Tom Mulcair in English" said he would never be heard speaking against the development of the oilsands.
"I'd like to know if Tom talks to Thomas from time to time, and what is the actual position of the NDP?" asked Duceppe.
Mulcair said he would never, under Stephen Harper's environmental regime, approve the Energy East pipeline, which is deeply unpopular in Quebec.
First, they sparred over infrastructure spending with Mulcair saying he had a 20-year plan instead of a short-term vision like Trudeau's. "People are stuck in traffic today, not in five mandates," Trudeau responded.
Mulcair defended his decision not to run deficits by saying Trudeau wanted to use his "Mastercard" to pay for his long list of promises.
Later on, the Liberal leader snuck in an attack against Mulcair, saying that, as a provincial politician, he had proposed selling water in bulk to the United States.
Mulcair responded that Trudeau's assertion was "spectacularly factitious." Trudeau said told Mulcair he could be seen on video championing it. The two went at it.
Mulcair said his record shows that he had not supported it. "You don't understand that we need to have debates occasionally," he told Trudeau, "because you, someone needs to write your lines for you."
Mulcair acknowledged that his promise to hire 7,000 new doctors and build 200 new clinics would depend on collaborating with the provinces.
May came out in favour of an elected Senate, through proportional representation.
Trudeau said his plan would help lift 60,000 children in Quebec out of poverty, the equivalent of the "an Olympic stadium filled with kids."
Duceppe said he, like Harper, supports military intervention against ISIS. (May and Mulcair would end the bombing mission. Trudeau wants to stop the bombing but train local troops. Everybody wants to provide humanitarian aid).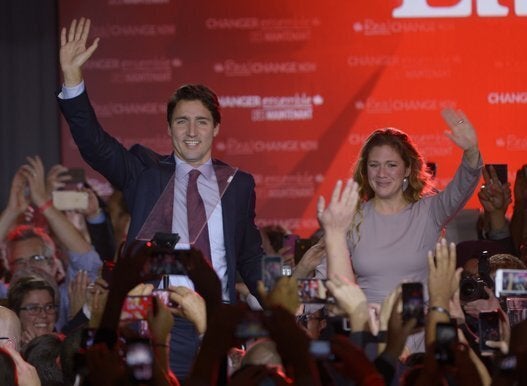 In Photos: Canada Election 2015